Why You May Not Want to Age in Place
Blog posted On December 09, 2020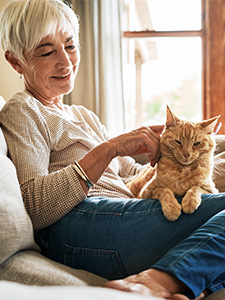 Many working-age people dream of the day that they can retire by a beach or travel the world. However, by the time most people reach age 65, they are ready to settle down and stay home. In a 2018 study, AARP reported that over 75% of all retirees want to age in place. While the desire to grow old in a familiar place is understandable, considering other options might not be a bad idea.
Aging in place has its advantages – you're in familiar surroundings, you have more independence, and you're likely living closer to friends and family. Plus, you don't have to worry about the emotional, physical, and financial stress of moving. At the same time, aging in place can be just as emotionally stressful, physically taxing, and financially demanding as moving – if not more. Between health issues, house maintenance, and general happiness, there are several downsides to remaining at home as you grow older.
Harder to handle health issues
The older you get, the more health concerns you have. If you live alone, any health emergencies will be much harder to handle. Even if you live with a spouse or partner, they likely won't know basic nursing skills. Living with a spouse or partner will also make you more codependent, which could be an issue if one person passes away before the other.
Moving to a retirement community can often provide more health and safety precautions than living alone or with a spouse. For example, many retirement communities have on-site health care facilities and nearby hospitals. Some communities even have senior living assistance that helps you with everyday tasks but allows you to maintain your independence that comes with living alone.
Difficult to maintain your home
Maintaining a home often becomes increasingly difficult as you age – mentally, physically, and financially. Every home system has a shelf life and most home features require occasional repairs or upgrades. However, the older you get, the harder it can become to remember exactly when those repairs are due. Or, even if you do remember repairs are needed, they might simply be too physically taxing to do yourself. Then, you either push off asking someone for help or don't want to spend the money on repairs.
Maintenance aside, you will likely have to make modifications in your home to accommodate for any physical limitations that come with age. Some examples include shower bars, entrance ramps, or stair chair lifts. The National Association of Home Builders (NAHB) offers an Aging-in-Place certification to help advise builders on modifications and improvements.
If you're worried about the financial cost of moving, remember that the cost of repairs and modifications can cost thousands of dollars. Stair lifts alone can cost up to $20,000, while entrance ramps average at about $1,000 and walk-in tubs cost an average of $5,000 to install. By the time you have to sell your home, the next buyer may not be interested in your modifications and it could hurt your selling prospects.
Mentally challenging to live alone
About one in four adults above the age of 64 are considered to be socially isolated. When you age in place, you probably will become more socially isolated and lonely, which, according to the National Academies of Sciences, Engineering, and Medicine, significantly increases a person's risk of premature death. Social isolation and loneliness put you at a 50% increased risk of dementia, a 29% increased risk of heart disease, and a 32% increased risk of a stroke.
Though you may still live alone in a retirement community, you will be in a much more socially stimulating environment than living alone in an area populated by young adults and families. Many retirement communities have clubhouses, exercise facilities, pools, tennis courts, golf courses, restaurants, and many other places and opportunities for social gatherings.
The idea of aging in place may sound comforting right now but it can come with many stressors later on. People put a great amount of thought into their financial plans for retirement, but it is just as important to consider your housing plans as well. If you haven't considered your living situation for retirement, now might be a great time to start. With mortgage rates at record lows, you could downsize into the perfect smaller home and save thousands of dollars on interest. If you would like to explore your loan options further, let us know!
Sources: AARP, CDC, MarketWatch, Retirement Living, Senior Living