Why Now is Actually a Good Time to Buy a Home
Blog posted On May 17, 2022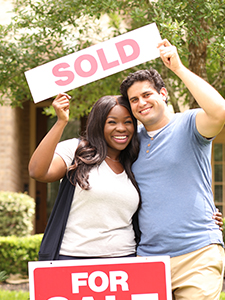 Nearly 75% of consumers told Fannie Mae that they think it's a bad time to buy a home. Historically low housing inventory, record high home prices, and sharply rising mortgage rates are the main headlines driving the sentiment. But the current headlines don't always paint the full picture. Here's why you should consider buying now vs. later.
Rates will likely continue trending higher
Many home buyers are hoping to 'wait out the storm' until mortgage rates drop. But they may be waiting a while.
Inflation is still near a 40-year high

The Federal Reserve will keep raising the benchmark interest rate until inflation begins to cool

In May, the Fed raised the benchmark rate by 50 basis points – the biggest rate hike in two decades – to a level of 0.75% - 1.00%

Federal Reserve Chairman Jerome Powell said more 50 basis point hikes "should be on the table at the next couple of meetings"

Current market pricing has the benchmark rate rising to a level of 2.75% - 3% by the end of 2022

Although the benchmark interest rate does not directly dictate mortgage rates, it typically does influence their general trends

With benchmark interest rate hikes still on the horizon, it's likely that mortgage rates will continue trending upward through 2023

"The 30-year fixed-rate mortgage could rise to 6.5 percent by mid-year," said John Thomas, partner at Cassin & Cassin LLP, a New York City-based real estate firm. "This would put the 15-year fixed-rate mortgage at about 5.5 percent at the end of June," Thomas says.

"So folks who are hoping for rates to fall may be waiting for a while," wrote financial mortgage editors at Forbes Advisor.
Home prices are going to keep rising
Other home buyers are waiting until home prices fall. This also will be a long wait. Price climbs may soon start slowing down, but overall prices are not forecasted to drop.
The current Fannie Mae prediction is that home prices will rise 10.8% year-over-year in 2022

So the home you're looking at that's currently $450,000 will be around $500,000 next year

This coupled with the predicted rate hikes will likely make your monthly mortgage payment significantly more expensive if you buy next year
Rates aren't that high historically
The sharp climb in mortgage rates has been shocking for most consumers in recent months. For the past two years, we've gotten used to the 2% - 3% mortgage rate. So seeing rates in the 5% range has been a tough adjustment for most. However, 5% is still relatively low when compared to historic rates.

Until about 20 years ago, mortgage rates generally remained above 7.5%

In the 80s and early 90s rates were between 10% and 17.7%

In 2005 when home sales hit a record high, mortgage rates were still hovering around 6%
Rates from the past two years are not coming back
Some buyers might be hoping that rates will return to their pandemic lows. But these rates are not the norm. Mortgage rates that low are a once-in-a-lifetime anomaly. They didn't drop that low by any normal cause. The coronavirus outbreak was unlike anything the modern world had dealt with before.
So if you're waiting for rates to drop that low again, you might be stuck on the home buying sidelines forever. Here is what some of the market experts are saying:
"If a buyer finds a property they would like to call home, they should not delay," says Stacey Froelich, a broker with Compass in New York City. "You cannot time the market, and a home should be a long-term investment. A year from now, even if prices come down slightly, mortgage rates will most likely be significantly higher. In the end, that will cost a buyer more monthly if they are financing."

"Any borrowers looking to refinance or buy a home should act quickly before interest rates likely increase over the course of 2022," writes Mortgage Reports Editor Paul Centopani.

"I don't think buyers should be betting on any really significant price declines," says Robert Dietz, chief economist at the National Association of Home Builders. "If anything, as interest rates move higher, the cost of buying a home is going to go up."
Neither prices nor rates are going to cool. So if you're waiting for the perfect time to buy, it might be now. If you would like to talk more about market conditions and predictions, let us know. To get started on your preapproval, click the "Get Started" button above.
Sources: Bankrate, Bankrate, CNBC, Federal Reserve Bank of St.Louis, Forbes, Fortune, HousingWire, The Mortgage Reports, Time