Why HousingWire Lead Analyst is "Team Higher Mortgage Rates"
Blog posted On April 26, 2022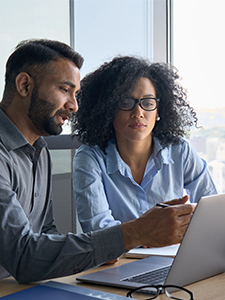 There's no avoiding the recent headlines about rising mortgage rates. Simply put, mortgage rates have jumped significantly since the beginning of 2022. How significantly varies per lender, but in general, mortgage rates have been trending nearly two percentage points higher than December 2021. This has caused undoubtable noise from the housing market and likely concern from many hopeful homeowners. But housing experts like HousingWire's Lead Analyst Logan Mohtashami see rising rates as a benefit for the housing market.
In recent weeks, Mohtashami gave his 'inside scoop' on mortgage rate trends, forecasts, and insights during a HW+ Slack Q&A. He also talked with HousingWire Editor in Chief Sarah Wheeler during one of their weekly podcasts. Here's what he had to say.
Home inventory is not in a good place
Right now, existing home inventory is hovering near a 2-month supply. "You would like to see 6-9 months [of supply]," says Mohtashami. Existing home sales make up around 90% of all residential sales transactions. So it's arguably even more important that existing home inventory is at a healthy level. We have not gotten any kind of help on the inventory side," argues Mohtashami. "And coming off of the home price growth in 2020 and 2021, this is not a positive in my eyes." What's the solution? "You need demand weakness to get inventory to rise for the existing home sales market." And how does the market do that?
Higher rates are a good thing for housing
One of the many benefits of higher interest rates is their effect on housing demand. As mortgage rates continue to climb, it's likely that we'll start to see a temporary dip in demand. While this doesn't sound ideal, it actually is a benefit for the current housing market. "There are too many people right now looking at too few homes," says Mohtashami. "So being part of 'Team Higher Mortgage Rates' [is understanding that] higher mortgage rates can create balance." More specifically, a balance between supply and demand. "What I am hoping for is that higher rates create more days on the market, cool price growth down, and at some point this year, we stop being negative and be positive on a year-over-year basis," writes Mohtashami.
Whether you're owning or interested in buying, inflation and higher rates might not be the worst thing overall. In fact, homeowners are still in a great position. "The homeowner is in the best shape ever – their home right now is the best hedge against inflation," argues Mohtashami.
If you're interested in learning more about the current market and rate trends, let us know.
Sources: HousingWire, HousingWire, Mortgage News Daily