What is an Acceleration Clause and How Can You Avoid It?
Blog posted On September 09, 2021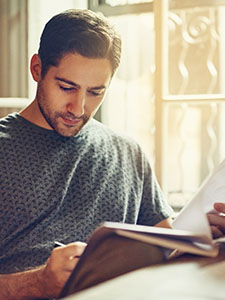 Whenever you sign a contract, it's important to read it thoroughly before signing on the dotted line. It can be a lot of reading, but when there's as much money involved as a mortgage, you want to make sure you know all the rules. One rule that's often overlooked in a mortgage contract is the acceleration clause.
What is an acceleration clause?
An acceleration clause is typically put into a mortgage contract to financially protect lenders from borrowers who miss payments or break other loan stipulations. If you break certain terms laid out in your mortgage contract, the acceleration clause will into effect. When this happens, you will be required to pay back your home loan immediately.
Causes of an acceleration clause
Mortgage terms and requirements vary per lender, but there are some common reasons why an acceleration clause might be initiated:
You have too many missed payments

You filed for bankruptcy

You cancel your home insurance

You fail to pay your property taxes

You fail to keep your home in livable condition
However, just because you find yourself in any of these situations doesn't mean that an acceleration clause will automatically go into effect. Lenders have the power to decide if they want to initiate the acceleration clause or not.
What to do if you face an acceleration clause
If your lender does decide to enact the acceleration clause, they will notify you, provide the reason for enacting it, tell you your mortgage balance, and give you a due date for your payment. This can be an intimidating situation – especially if you have a large remaining balance. But there are a few options that might be able to help you, depending on your lender and your state's acceleration and foreclosure laws.
Loan modification
Loan modification allows you to change your loan's structure to make your payments more affordable. For example, you might lengthen your loan term so that you can make smaller payments every month.
Mortgage reinstatement
In some cases, your lender might offer mortgage reinstatement, which could help you avoid foreclosure. In this scenario, you would pay a certain amount of money to catch up on your missed payments and fees.
Pre-foreclosure
If you can't pay your loan even with the help of modification or reinstatement, then you'll likely go into pre-foreclosure. In pre-foreclosure, you have some final options before going into full foreclosure. Common pre-foreclosure options include refinancing or a short sale. If you have enough home equity, refinancing might be the better choice. This will allow you to stay in your home and can help make your monthly payments more affordable. With a short sale, you are selling your home and giving all proceeds to your lender.
If you feel like you're having a more difficult time keeping up with your monthly payments, it's better to talk to your lender earlier rather than later. We're here to help and would love to work with you to find a solution that fits your needs.
Sources: The Balance