What Homeowners Insurance Covers in a Power Outage
Blog posted On March 03, 2021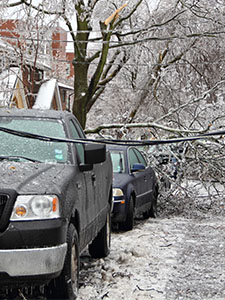 Losing power in your home is more than just an uncharged iPhone and a missed episode of This is Us – especially during the winter months. For many, losing power can be physically dangerous, emotionally taxing, and financially expensive. Luckily, some of the costs that ensue from power outages are covered by your homeowners insurance – but the extent of your coverage depends on your insurer and policy.
What is Homeowners Insurance?
Homeowners insurance is a form of financial protection for your property that covers asset damages or losses. When applying for a mortgage, you will typically need to purchase or provide proof of homeowners insurance for your lender. You can choose from a variety of plans and policies to pick the coverage that best fits your needs.
What Does Homeowners Insurance Cost?
Like other types of insurance, homeowners insurance has a liability limit, and you will likely need to pay a deductible when you make a claim to your insurance company. The deductible you pay should not be confused with your annual homeowners insurance policy fees – which are collected by your lender as a part of your mortgage payments, and then put into an escrow account until they are due.
What Expenses Does Homeowners Insurance Cover?
Though policy coverage varies, most policies cover costs like interior damage, exterior damage, loss or damage of personal assets, and injury that occurs on the property. Unfortunately, this might not include everything you think. For example, common issues like flooding might not be covered in your homeowners insurance. If you live or have a vacation home in an area that is likely to face one of these issues at some point – like a beach house – then you may have to purchase special insurance coverage. Other events like hurricanes or tornadoes should be covered in most basic insurance policies, though you should always check with your insurer to be certain of what your policy covers.
What is Covered by Homeowners Insurance in a Power Outage?
A common issue of prolonged power outages during winter months is frozen pipes. According to Hope Plumbing, it doesn't take long for pipers to freeze over – just six hours at temperatures of 20 degrees (Fahrenheit) or below. Once pipes freeze over, it can cause them to crack and flood when they heat up again, which could lead to unexpected costs like flood damage and plumbing bills. If this happens, your homeowners insurance will probably cover the expenses – but again, it depends on your insurer and policy. "If your pipes froze because of an unusual cold snap," causing water damage, your claim will likely be approved," said property insurance lawyers at VossLaw. However, "If a pipe burst simply because it was worn out, you may be out of luck." Or, if you were to turn off your power when leaving your home for a prolonged period of time, and then your pipes froze and burst, your claim would probably be denied. One homeowners' tip is to leave your water running at a trickle when you lose power during colder months – this reduces the chance of frozen pipes. An additional power outage coverage that some insurance companies offer is spoiled food. This would likely be during a power outage in warmer months, if your power goes off and your freezer/ refrigerator warms. However, many insurers cap the covered loss for food at around $250 to $500, which is likely below your deductible.
Before submitting an insurance claim, be sure to check your coverage with your insurer first. If you would like to explore your homeowners insurance options, contact us today and we can help review what you might need in your area.
Sources: Money.com