The Cost of Aging in Place
Blog posted On December 01, 2021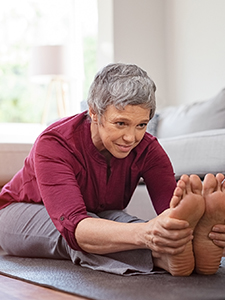 When you approach retirement, you'll be faced with the decision of whether to stay in your home or move. Many retirees choose to downsize or move from a single-family home to a townhouse or condo. Others choose to renovate their current home to accommodate expected life changes. If you're considering whether you're going to stay in your home or move when you retire, make sure to account for all the expected costs.
Cost of Moving
If you would like to move, the cost will vary depending on where you are going. A cross-country move will be significantly more expensive than moving somewhere nearby. The good news is your home has likely appreciated in value since you first bought it. Depending on how long you've lived there, your mortgage may even be paid off.
If you no longer have a mortgage payment, make sure you can comfortably afford a new mortgage payment on your retirement budget. Using our mortgage calculator is one way to estimate your expected monthly mortgage payment.
If you are moving to a townhouse or condo, there may be a homeowner's association fee that covers the cost of community maintenance and amenities.
Of course, there is also the upfront cost of moving, including the fees associated with selling your home and financing a new home. The cost of physically moving your belongings will vary depending on how far away you are moving. If you are downsizing significantly, you may not need to take everything with you, or you made need smaller replacements.
If you are moving away from family and friends, you'll also want to factor in your travel budget. Holidays may involve more traveling than just a quick drive down the street. Be sure to budget for semiannual airfare or road trips.
Cost of Aging in Place
If you would like to stay in your current home and age in place, you are not alone. A survey from Silvernest found 90% of people would like to remain in their home as they age, but only 25% believe their homes are equipped to accommodate later life needs. Bathroom and kitchen remodels can be quite costly, and if the home is two stories, that creates additional challenges if you start to have difficulty with the stairs or become wheelchair-bound.
Additionally, you may need to hire an in-home caregiver or nurse, depending on your medical needs. Factor these costs into your "aging in place" budget, and plan ahead for the possibility.
With today's low mortgage rates, and appreciating home values, this could be an opportunity to use a cash-out refinance to reinvest in your home. Lock in a lower mortgage rate and use your home equity to make changes to your home now that you will need later.
Many retirees hope to age in place and with the right design changes, it can be possible. Whether you're looking to move or stay in your home when you retire, we'd love to talk about what mortgage options are best for you.
Sources: MarketWatch