Tappable Home Equity Reaches All-Time High: Here's How to Take Advantage
Blog posted On September 14, 2021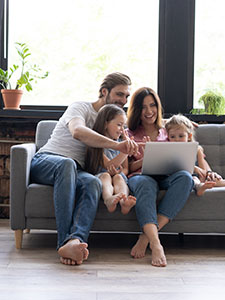 Last week the Data & Analytics division of Black Knight released its latest Mortgage Monitor Report – revealing a record-breaking amount of tappable home equity. Tappable home equity is the amount of money that homeowners can cash-out while keeping their remaining equity at or above 20%. According to the data analytics company, homeowners have an astounding $9.1 trillion in tappable home equity. What does this mean for you?
Home prices have risen dramatically over the past year. The 20-city Case-Shiller home price index showed a shocking 19.1% jump in home values from June 2020 to June 2021. According to the National Association of REALTORS® (NAR), the median sales price on existing homes was nearly $360,000 in July. For home buyers, the rise in prices is less than ideal. Even though historically low mortgage rates combat the high sales prices, buying a house while prices are high still requires a large down payment upfront. There are several low down payment options that are helping buyers take advantage of low rates, but the bigger winners right now are homeowners. Not only are you in a good position to sell, but you also have the perfect opportunity to refinance. With a refinance, you can lower your interest rate and cash out your tappable home equity.
"Tappable equity grew an astonishing 37% year-over-year in Q2 2021, driven by increasing gains in home values over the quarter," said Black Knight Data & Analytics President Ben Graboske. "This is by far the strongest growth we've ever seen and equates to some $173,000 in equity available to the average mortgage holder."
The potential for your tappable equity is huge. With a cash-out refinance, you can take out some of your equity and use it for other expenditures or investments. If you have high interest debts like credit card debt, car payments, or student loans, you can use your home equity to pay them off or consolidate. Or, if you've had unexpected medical expenses over the past year, then you can pay those off. Many people have also been working from home and plan to continue this in the future. Using a cash-out refinance, you can fund home improvements – which could give you a home office and, in some cases, boost your home's value. In Q2 of 2021, homeowners withdrew $63 billion in equity via 1.1 million cash-out refinances – marking the largest quarterly volume in 14 years.
Despite the surge in withdrawal volume and record-high home equity, most homeowners have yet to refinance. A survey conducted by Bankrate found that 75% of owners who purchased their house pre-pandemic have not refinanced. If you're one of these homeowners, you could be paying much more on interest and sitting on thousands of dollars of untapped equity.
A large reason for the lack of refinances is the lack of familiarity with your mortgage. When asked about why they haven't refinanced yet, many homeowners responded that they didn't think they would save enough or that it would be too much paperwork. If you don't think you'd save enough, you might not know your current mortgage rate or realize what rate you could qualify for. If this is the case, we would be happy to help you determine your savings to see if a cash-out refinance would be right for you. All you need to do is click "Get Started" above, and we do all of the hard work.
Sources: CNBC, Grow, Money, NAR, PRNewswire