Sales of Vacation Homes Soar
Blog posted On July 20, 2021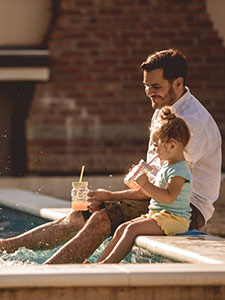 After spending 15 months inside, people are itching to get out. They're also itching to spend some of the money they've been saving for the past year. Consequently, the sale of vacation homes has seen a noticeable increase during the first four months of 2021.
According to a recent study by the National Association of REALTORS® (NAR), the number of vacation home sales surged by 57.2% year-over-year during the first four months of 2021. This outpaced the annualized rate of total existing home sales by over 35%. "Vacation homes are a hot commodity at the moment," said Lawrence Yun, chief economist of the NAR. "With many businesses and employers still extending an option to work remotely to workers, vacation housing and second homes will remain a popular choice among buyers."
The option to work remotely has drastically changed the housing market. Not only has it helped buyers purchase homes outside of main metropolitan hubs, but it's helped them save more money and buy homes sooner. In April 2021, the U.S. savings rate skyrocketed a record 32.2% -- up from 12.7% in March 2021. Previously, the highest U.S. savings rate was recorded in 1975, when Americans were saving 17.3% of their incomes. However, it's important to note that this savings rate is not applicable to all levels of income. Lower-income Americans were hit harder during the pandemic and still needed to spend as much as they did pre-pandemic.
In 2020, vacation home sales jumped by 16.4% to 310,600 while total existing home sales increased 5.6%. During the latter half of the year, the housing market had a sharp rebound from the losses incurred during the beginning of the pandemic. Sales were even hotter in popular vacation home counties. Based on data from 145 vacation home counties and 1,060 nonvacation home counties, existing home sales rose by 24.2% on average in vacation home counties while sales in non-vacation home counties only rose an average of 11.2%. Among these vacation home sales between January 2021 to April 2021, 53% were all-cash purchases. Seventy-seven percent of vacation home buyers made a down payment of at least 20%.
Besides the option to work remotely, record-low mortgage rates have driven many eager buyers into the market. Mortgage rates hit 16 record lows throughout 2020, and in 2021 they're still in a historically low range. The savings you could earn from locking in a low mortgage rate today are exponential. If you took out a $250,000 loan for a 30-year fixed rate mortgage at an interest rate of 4.5%*, you would end up paying $206,000 in interest – nearly doubling the cost of your home. But if you took out a $250,000 loan for a 30-year fixed rate mortgage at a 3%* interest rate, you would only pay $129,000 in interest. That's saving you over $100,000 on your home.
Many are concerned that rising rates may be coming soon, but they are still significantly lower than they were pre-pandemic. The average 30-year fixed interest rate for a mortgage was near 4% at the end of 2019. In recent weeks they've been trending near 3%. Whether purchasing a new home, investing in a vacation home, or refinancing your current loan, the savings you could reap from the current rates are huge. If you would like to get an idea of how much you could save, contact us or check out the mortgage calculator page on our website.
*Payment example: If you choose a $250,000, 30 year loan at a fixed rate of 3.3% (APR 3.5%), with a loan-to-value of 80%, you would make 360 payments of $1,122.61. Payment stated does not include taxes and insurance, which will result in a higher payment.
Sources: HousingWire, NAR, Next Advisor, Next Advisor, The Balance