Renting vs. Selling: Which is Right for You?
Blog posted On February 17, 2022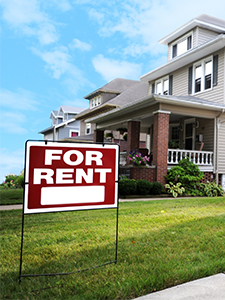 When rent prices and home prices are both soaring, you might be faced with the tough decision: should you sell your home or rent it out? Both are good options, but before you decide, it's important to consider the pros and cons of each scenario.
Converting your home into a rental
Pros
Passive income – Renting out your house can give you a good source of passive income, which can help pay off your mortgage, pay down other bills, or save for retirement.
Could help reduce DTI – DTI, or debt to income ratio, is a tool that lenders use to evaluate your ability to manage money and pay off expenses. The lower the DTI, the better chance of getting lower rates. Many lenders include rental income when calculating your DTI, which can help reduce the ratio.
Tax benefits – There are several tax benefits to renting out your home. You get to deduct repairs or owner expenses, mortgage interest, and you benefit from depreciation deductions. Rental owners can also deduct property taxes depending on your situation.
Cons
Landlord responsibilities – Being a landlord involves more than just collecting a rent check every month. You'll be responsible for maintenance and typical tenant issues. More often than not, tenants won't treat your house as nicely as you.
Steep tax bill if/when you sell – If you convert your current primary residence into a rental property and then decide to sell it later, you might face a steep tax bill. In order to take advantage of capital gains tax deductions, you have to live in a house for two of the last five years.
You might have to switch mortgages – Not all mortgages allow you to finance a second home or a rental home. You will have to check with your lender before converting your primary residence into a rental.
Selling your home
Pros
Pays off mortgage – By selling your home, you completely free yourself of that mortgage responsibility. When you rent it out, you will then be paying two mortgages.
Potentially large profits – Depending on when you sell your home, you could reap huge benefits. In a low inventory, high demand, high home price appreciation market, you're likely be able to sell your house for much more than you bought it.
Cons
Might have to renovate – Unfortunately, homes can depreciate in value without the proper updates. In order to list your home at its max price, you'll likely have to invest some money into renovations.
Won't be able to 'undo' it – If you turn your primary residence into a rental, you can always decide to sell it later. But if you decide to sell your home, it would be a lot harder to buy it back and then convert it into a rental.
Overall, there are many factors to consider before converting your primary home into a rental home. Selling might be the better option if you're not ready for all of the responsibilities of a landlord. "It makes sense to convert a home to a rental property if and only if you understand all of the potential issues that exist with becoming a landlord," said Michelle Gessner, founder and owner of Gessner Wealth Strategies, a financial advisory firm based in Houston.
If you'd like to learn more about rental properties and financing, let us know.
Sources: MarketWatch