Rental Rates Rise at Record Pace – Is Now the Time to Buy?
Blog posted On November 30, 2021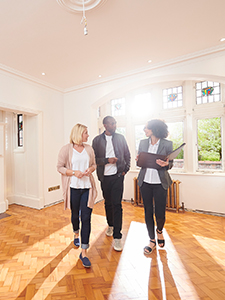 A recent report from CoreLogic showed in September, rents for single-family homes increased 10.2% year-over-year nationwide, up from a 2.6% annual increase in September 2020. The economic rebound powered by strong job growth, plus a record low level of single-family rental vacancies, will likely continue to push rental rates up. Home prices are rising as well but choosing to buy now rather than continuing to rent gives you the opportunity to lock in a record-low mortgage rate, build valuable home equity, and escape the volatile rental market.
Why buy now?
Mortgage rates are low but expected to rise.
Since the onset of the pandemic, mortgage rates have hovered near record lows. As the economy recovers and inflation heats up, rates are expected to gradually rise. Buying a home now and financing with a fixed-rate mortgage means you can lock in a record-low mortgage rate for years to come.
Benefit from appreciating home values.
Inflation means everything is getting more expensive, including homes. When you own your home, you benefit from rising home prices, because your home's value increases. If you choose to sell your home, you will net a greater profit. If you choose to refinance, you'll have more home equity to pull from for a cash-out refinance.
Predictable monthly mortgage payments
When you finance your home with a fixed-rate mortgage, your mortgage payment will be about the same every month. When you rent, you are subject to inflating rental rates each time you renew your lease. Buying a home now, and financing with a fixed-rate mortgage, means you will have stable, predictable monthly mortgage payments for the entirety of the loan term.
CoreLogic reports 93% of consumers think owning a home is a good investment. If you're ready to invest in your future, let us know.
Sources: CNBC