Questions to Ask Before You Refinance
Blog posted On July 16, 2020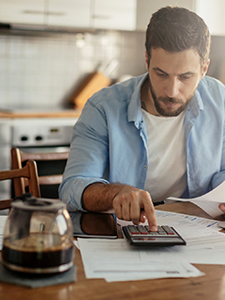 If you're a homeowner, you may be thinking about a mortgage refinance. Record-low mortgage rates and an easy and online refinance application process have led to a surge in refinance activity this summer. You may be tempted to lower your monthly payment with a mortgage refinance, but even with today's low rates, a refinance is not right for everybody. If you're considering a mortgage refinance, here's what your loan officer is going to ask you first.
How much equity do you have in your home? You need to have at least 20% equity in your home if you'd like to refinance without paying private mortgage insurance (PMI). Similar to buying a home with a down payment less than 20%, refinancing with less than 20% equity in your home will add the cost of PMI to your monthly mortgage payment. To find out how much equity you have in your home, check your monthly mortgage statement or contact your loan servicer.
Has anything changed with your credit? You had good enough to credit to qualify for your current mortgage – but have you maintained your good score, or have you had credit issues in recent years? Many Americans have experienced an income disruption or taken on additional debt during the pandemic. A mortgage refinance is a new loan origination and will involve a credit check. If you're not sure where your credit score stands, get a free estimate from an online service or order your annual free credit report online.
How much longer will you be living in this home? Since a mortgage refinance is a new loan origination, it will have closing costs that can range from 2% to 3% of the total loan amount. You are likely refinancing to save money, so make sure to include these costs in your calculation. If you plan on moving within the next few years, you may end up selling your home and originating a new loan before you break even. A refinance only makes sense if you will be living in the home long enough to recoup any refinance costs.
How will a refinance impact your current rate and terms? One of the common reasons homeowners refinance is to switch from an adjustable-rate to a fixed-rate mortgage loan. The interest rate on an adjustable-rate mortgage will change over time but the interest rate on a fixed-rate mortgage will stay the same through the term of the loan. If you have an adjustable-rate mortgage, you may want to wait before moving forward with a mortgage refinance. Interest rates will likely stay low through the end of the year and into 2021. You could have some time before rates start to rise again.
Why do you want to refinance? Do you want to lower your monthly mortgage payment? Do you want to shorten your loan terms? Before you move forward with a refinance, talk with a loan officer about why you want to refinance and decide together that a refinance is the best way to achieve that goal.
A mortgage refinance could help you lower your monthly payment, change loan terms, get cash out, and lock in a lower interest rate for the life of your loan. If you have any questions about a refinance and if it's the right route for you to achieve your financial goals, ask away!
Sources: Bankrate