Market Update: Rates Unchanged; NAHB Housing Market Index, Housing Starts and Building Permits, Existing Home Sales Coming Up This Week
Blog posted On January 17, 2022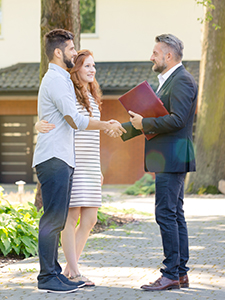 Last week, mortgage rates were initially trending higher than the previous week. During the latter half of the week, they began trending lower. The bond market is largely tied to mortgage rate movement, and over the past two weeks, bond market supply has been elevated. Higher supply typically translates to higher rates. Other factors pushing rates higher include the Federal Reserve's minutes released last week, and the potential for the Omicron variant to help speed up the endemic phase of COVID. Factors pushing rates lower included a stabilizing bond market and steady improvement following the congressional testimony from Fed Chair Jerome Powell.
This week, there are several important housing reports scheduled for release. On Tuesday, the National Association of Home Builders (NAHB) will release its housing market sentiment index for January. On Wednesday, December's housing starts and building permits are scheduled for release. Existing home sales for December will come out Thursday morning.
The National Association of Home Builders' (NAHB) housing market sentiment index is based on a survey of home builders' perceptions on current sales activity, sales expectations for the next six months, and buyer foot traffic. Any reading above 50 is considered positive. The NAHB housing market sentiment index rose for the fourth consecutive month in December, climbing to a level of 84. Despite labor shortages and supply chain issues, unseasonably strong housing demand gave home builders increasing confidence last month. Home inventory has been exceedingly low over the past year as low mortgage rates and COVID-related migrations out of cities have driven thousands of eager buyers into the market. The continued increases in residential construction spending and housing starts are hopeful to bring more new homes into the market.
Housing starts track ground broken on residential projects and building permits track permits issued. In November, housing starts surged 12% month-over-month to reach a seasonally adjusted annual rate of 1.68 million. Building permits increased as well, up 4% month-over-month to reach a seasonally adjusted annual rate of 1.71 million. A large contributor to the increase in permits was the 6% jump in multifamily building permits. "As evidenced by the strong optimism among home builders, market conditions are highly supportive of a fast pace of construction," wrote Jacob Passy, personal finance reporter for MarketWatch.
Existing home sales or resales track the sales of previously constructed homes and make up approximately 90% of residential real estate transactions. In November, existing home sales rose 1.9% month-over-month to reach a seasonally adjusted annual rate of 6.46 million – the highest level since January 2020. The median price of existing homes was $356,900, while the unsold inventory was at a 2.1-month supply. Home inventory is set to increase this winter, giving a boost to the low supply of existing homes and giving buyers more options to choose from.
With more home buying options set to join the market and mortgage rates set to increase this year, this winter could be a great opportunity for many prospective buyers. If you're interested in taking advantage of low rates while they're still here, let us know.
Sources: Bloomberg, CNBC, MarketWatch, MarketWatch, Mortgage News Daily, Mortgage News Daily, Mortgage News Daily