Market Update: Rates Trend Lower; NAHB Index, Housing Starts and Building Permits, and Existing Sales Coming Up This Week
Blog posted On May 16, 2022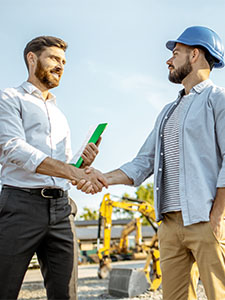 Mortgage rates dropped to some of the lowest levels in two weeks towards the middle of last week. Typically, decreases that drastic only happen but once a year and are tied to some huge event happening in the market. But this year is a year like no other. The volatility alone in the 2022 market has spawned some dramatic climbs and tumbles for rates. Commenting on the drops from last week, Mortgage News Daily CEO and founder Matthew Graham writes, "It's a sign of 2022's times that there really weren't any glaringly obvious scapegoats for this particular drop in rates."
This week, there are several important housing reports scheduled for release. On Tuesday, the National Association of Home Builders' (NAHB) will release their housing market sentiment index for May. On Wednesday, we will get updates on upcoming construction projects with housing starts and building permits in April. On Thursday, April's report on existing home sales will be released.
The NAHB housing market sentiment index is based on a survey of home builders' perceptions on current sales activity, sales expectations for the next six months, and buyer foot traffic. Any reading above 50 is considered positive. In March, the 'current sales conditions' component fell 2 points to a level of 77. Buyer traffic dropped 6 points to a level of 60. Sales expectations for the next six months, however, rose 3 points to a level of 73. This follows a 10-point drop in sales expectations in March. The impact of rising mortgage rates is slowly starting to spread throughout the market, but overall, builders are still showing positive sentiment about the market conditions considering any reading above 50 is considered positive.
Housing starts track ground broken on residential projects and building permits track permits issued. In March, housing starts climbed 0.3% month-over-month to seasonally adjusted annual rate of 1.79 million units – defying economists' expectations of a decline. Building permits rose as well, climbing 0.4% to a seasonally adjusted annual rate of 1.87 million. Though the NAHB index has been declining, the near-record-low housing supply should continue to fuel home building through the end of the year.
Existing home sales or resales track the sales of previously constructed homes and make up approximately 90% of residential real estate transactions. In March, sales of existing homes dropped 2.7% month-over-month to a level of 5.93 million, according to the National Association of REALTORS® (NAR). This is a level 4.5% below the number of existing home sales in March 2021. Though rising mortgage rates can be attributed to the decrease, another large factor is the number of existing homes for sale. For the past year, existing home inventory has been at or near record low levels. However, the hope is that as rates continue to rise, demand will slightly taper off and inventory will return to healthier levels.
Sources: Bloomberg, CNBC, CNBC, CNBC, Mortgage News Daily, Mortgage News Daily