Market Update: Rates Rise, NAHB Housing Market Index, Housing Starts and Building Permits Coming Up This Week
Blog posted On November 15, 2021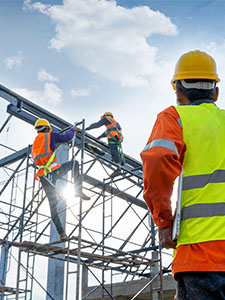 Mortgage rates trended upward last week. In the middle of the week, the bond market struggled. Interest rates are generally tied to the bond market, so if bonds have a bad day, mortgage rates will likely trend up too. One of the culprits was the consumer price index – a key inflation report – which showed inflation was at a higher-than-expected level. Bonds typically react badly to inflation.
This week, there are several important housing reports scheduled for release. On Tuesday, the National Association of Home Builders (NAHB) will release its housing market sentiment index. On Wednesday, the report on housing starts and building permits are scheduled for release.
The National Association of Home Builders' (NAHB) housing market sentiment index is based on a survey of home builders' perceptions on current sales activity, sales expectations for the next six months, and buyer foot traffic. Any reading above 50 is considered positive. In October, the NAHB housing market sentiment index rose four points to reach a level of 80. This was the largest jump in 12 months, and the first time the index has reached 80 since the summer. The current sales component of the index climbed five points to reach level of 87. Sales expectations for the next six months increased as well, up three points from the month before. Although ongoing supply chain issues remain a concern for the home building industry, builders appear to be unfazed and still very confident about the market's current and future states. If home builders are confident in the market, they're confident in their ability to keep adding more homes. More homes are going to be a key to bringing home prices down. In the upcoming NAHB report, Bloomberg economists expect home builders' confidence to remain unchanged.
Housing starts track ground broken on residential projects and building permits track permits issued. In September, housing starts slowed by 1.6%, falling to a seasonally adjusted annual rate of 1.56 million. Building permits fell as well, dropping 7.8% to a level of 1.59 million permits per year. Though the month-over-month trends are showing decreases, the annual change is still positive. Year-over-year housing starts were up 7.4%, while building permits were virtually unchanged. Overall, the housing starts and building permits data is consistent with the recent claims that the housing market is stabilizing. After a year and a half of record-breaking growth, market is finally falling back into its normal rhythm.
Other important reports scheduled for release this week include retail sales, the weekly mortgage application survey, and the jobless claims survey.
With the market stabilizing, mortgage rates are going to slowly start inching up. In fact, they already have. Locking in your mortgage rates now could help you secure a competitive rate while closing on your new purchase or refinance. If you'd like to learn more about rate locks, let us know.
Sources: Bloomberg, CNBC, MarketWatch, Mortgage News Daily,