Market Update: Rates Rise; NAHB Housing Market Index, Housing Starts and Building Permits, and Existing Home Sales Coming Up This Week
Blog posted On February 14, 2022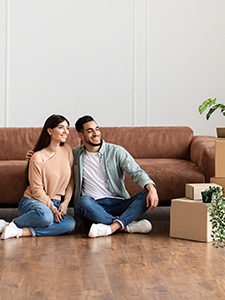 Mortgage rates continued their upward trend last week. One of the main factors was the consumer price index, released on Thursday, which showed inflation levels not seen since 1982. With higher inflation levels, the Federal Reserve is more likely to raise the benchmark interest rate in March.
This week, there are several important housing reports scheduled for release. On Wednesday, the National Association of Home Builders (NAHB) will release their housing market index. Housing starts and building permits are scheduled for release on Thursday. The report on existing home sales is scheduled for release on Friday morning.
The National Association of Home Builders' (NAHB) housing market sentiment index is based on a survey of home builders' perceptions on current sales activity, sales expectations for the next six months, and buyer foot traffic. Any reading above 50 is considered positive. In January, home builder confidence slipped slightly, dropping one point to a level of 83. High inflation has pushed material prices up, and the lack of material availability has created added pressures for builders. Despite supply chain issues and inflation pressures, construction activity had a strong turnout in December.
Housing starts track ground broken on residential projects and building permits track permits issued. In December, housing starts rose 1% month-over-month to reach a seasonally adjusted annual rate of 1.7 million. Building permits soared 9% month-over-month to reach a seasonally adjusted annual rate of 1.87 million. "Low inventories should continue to support building activity, but shortages — of inputs and labor — remain constraints for now," wrote Rubeela Farooqi, chief U.S. economist at High Frequency Economics in a research note.
Existing home sales or resales track the sales of previously constructed homes and make up approximately 90% of residential real estate transactions. In December, existing home sales fell 4.6% month-over-month. The total number of existing home sales in 2021 reached a level of 6.12 million – the highest level since 2006.
Also scheduled for release this week is the retail sales report for January, and the weekly mortgage application and jobless claim surveys.
Though experts believe that the Fed will raise rates in March, there is still time to lock in your rate before then. You can also ask us about buying points, which could help lower your interest rate upfront. To learn more about our different loan options, talk to us today to visit our loan product pages.
Sources: Bloomberg, CNBC, MarketWatch, Mortgage News Daily, Reuters