Market Update: Rates Rise; Fed Interest Rate Decision, Housing Starts and Building Permits, and Existing Sales Coming Up This Week
Blog posted On March 14, 2022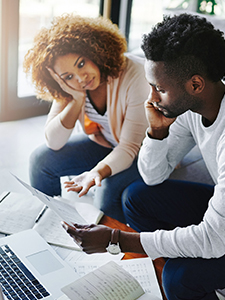 Mortgage rates trended higher last week as inflation hit another 40-year high and continues to face upward pressures from the conflict in Ukraine. Mortgage rates are largely dependent on trends in the bond market, and the bond market does not like inflation.
This week, there are several key reports scheduled for release. On Tuesday and Wednesday, the Federal Open Market Committee (FOMC) will be meeting. Also on Wednesday, housing starts and building permits are scheduled for release. Existing home sales are scheduled for release on Friday.
The Federal Open Market Committee (FOMC) sets the federal funds rate. The federal funds rate will influence mortgage rates but not set them exactly. When the Fed raises rates, mortgage rates typically go up. When the Fed lowers rates, mortgage rates typically go down. For the past two years, the benchmark interest rate has been near zero while the economy recovered from the COVID-19 pandemic. Many experts predict that the FOMC will vote to raise the benchmark interest rate in the upcoming meeting in an effort to combat 40-year high inflation. While experts had previously predicted a 0.50% rate hike, they now are predicting a 0.25% rate hike in response to the conflict in Ukraine.
Housing starts track ground broken on residential projects and building permits track permits issued. In January, housing starts took a tumble but building permits inched up, suggesting a rebound in starts in coming months. Housing starts fell 4.1% in January, likely resulting from supply chain issues, high material costs, and further setbacks due to the rise in the Omicron variant of COVID. Total building permits climbed 0.8% to a seasonally adjusted annual rate of 1.9 million units, the highest level since 2006. Single-family building permits surged 6.8% to a seasonally adjusted annual rate of 1.2 million units.
Existing home sales or resales track the sales of previously constructed homes and make up approximately 90% of residential real estate transactions. In January, existing home sales jumped 6.7% to a seasonally adjusted annual rate of 6.5 million. Inventory for existing homes fell to 860,000 units – which is a supply of 1.6 months at the current sales pace. Because existing home sales account for roughly 90% of total home sales in the U.S., the market is in great need for more existing homes on the market. Right now, one of the best ways to increase the supply is to slow the pace of demand, which we could see in coming months.
The housing market is still red-hot right now. But with the projected rate hikes, it will hopefully level out into a healthier balance. In a competitive market, preapproval is key. Get preapproved today to strengthen your offer and stand out in a busy market.
Sources: Bloomberg, Mortgage News Daily, Mortgage News Daily, NAR, Reuters