Market Update: Rates Inch Higher; NAHB Housing Market Index, Housing Starts and Building Permits, Existing Home Sales Coming Up This Week
Blog posted On October 17, 2022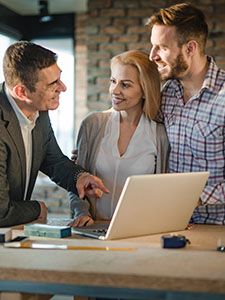 Last week, mortgage rates trended higher following hotter-than-expected inflation data. High inflation is tough on mortgage rates for a couple of reasons. First, inflation is the enemy of bonds, and the bond market heavily influences rate trends. Additionally, persistently high inflation will likely lead the Federal Reserve to continue its aggressive rate hikes.
This week in market news, we have the NAHB housing market sentiment index on Tuesday morning, housing starts in building permits on Wednesday morning, and existing home sales on Thursday morning.
The National Association of Home Builders' (NAHB) housing market sentiment index is based on a survey of home builders' perceptions on current sales activity, sales expectations for the next six months, and buyer foot traffic. Any reading above 50 is considered positive. In September, home builder sentiment dropped to a level of 46. With the increasing pressure from mortgage rates, the index is expected to decrease in October as well.
Housing starts track ground broken on residential projects and building permits track permits issued. In August, housing starts were at a seasonally adjusted annual rate of 1.58 million, a 12.2% increase from the month before. Building permits were at a seasonally adjusted annual rate of 1.54 million, an 8.5% drop from the month before.
Existing home sales or resales track the sales of previously constructed homes and make up approximately 90% of residential real estate transactions. Existing home sales were at a seasonally adjusted annual rate of 4.8 million in August, a 0.4% decrease from the month before.
Home buyers usually put their search on pause during the colder months, which can cause sales to drop. However, if you're in a position to transition this fall or winter, it could be worth exploring your options. With fewer buyers on the market, you'll likely see less competition, lower prices, and more seller incentives. If you'd like to learn more, let us know.
Sources: Bloomberg, Mortgage News Daily