Market Update: Rates Inch Higher; Construction Spending Coming Up This Week
Blog posted On January 31, 2022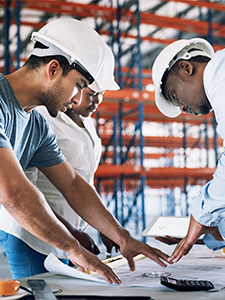 Last week, mortgage rates trended higher after the Federal Reserve hinted at an interest rate hike in March. "The Fed's announcement that it will 'soon be appropriate' to raise interest rates is a clear sign that a March rate hike is coming," noted Michael Pearce, senior U.S. economist at Capital Economics. Although the benchmark interest rate does not directly set mortgage rates, it does influence them. When the benchmark interest rate dropped to zero two years ago, mortgage rates saw a similar downward trajectory. Now, in preparation for the Fed's hike this Spring, rates are starting to inch up.
This week, the construction spending report is scheduled for release. The U.S. construction spending report tracks total spending on private and public construction projects. In November, total spending on private and public construction projects climbed 0.4% month-over-month, reaching a seasonally adjusted annual rate of $1.63 trillion. Compared to November 2020, construction spending rose 9.3%. A large contributor to the increase was residential construction spending, rising 0.9% month-over-month to reach a seasonally adjusted annual rate of $789.1 billion. Public construction, on the other hand, decreased 0.2%. Home builders have been working hard to boost the number of new homes on the market to support the high home buyer demand. New home sales rose nearly 12% month-over-month in December alone. As there is a limited number of existing homes on the market, many buyers are turning to new home options, putting builders on the spot.
Other reports scheduled for release this week include the Job Openings and Labor Turnover Survey (JOLTS), the ADP nonfarm employment change, the employment situation, and the weekly jobless claims and mortgage application submission surveys.
With mortgage rates on the rise, it's more important than ever to consider locking in your rate. Whether you're a current owner with an adjustable-rate mortgage, or a prospective buyer on the fence, now's the time to make your move. To get started, click the "Get Started" button above or check out our loan programs online.
Sources: Bloomberg, CNBC, Mortgage News Daily, U.S. Department of Commerce