Market Update: Benchmark Rate Unchanged, Construction Spending, ADP Employment Scheduled for Release
Blog posted On August 02, 2021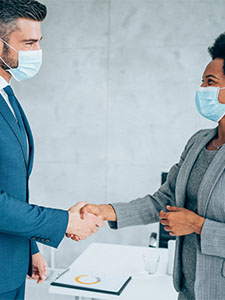 Last week, the Federal Open Market Committee (FOMC) voted to leave interest rates unchanged. Though they did mention that the economy has improved substantially, they have kept the benchmark interest rate near zero. The path of continued economic recovery (and consequential rate adjustments) will largely depend on potential spread of the coronavirus, specifically the delta variant. Mortgage rates have trended downward in past weeks due to several different factors – one of which includes the rising delta variant concern. However, the Fed did claim that future waves of the virus should have less impact on the economy. As for asset tapering, they said that we are not seeing enough progress on employment levels to begin tapering just yet. In other news, this week, construction spending is scheduled for release, as well as the ADP employment report.
The U.S. construction spending report tracks total spending on private and public construction projects. In May, construction spending fell unexpectedly, down 0.3% month-over-month. While home buyer demand remained high, the steep cost of materials continued to strain building progress. The main drop occurred in private nonresidential spending – down 1.1%. Outlays on residential projects, on the other hand, rose 0.2%, led by a 0.8% increase in single family home building.
The ADP employment report is based on data from approximately 400,000 US businesses employing approximately 23 million employees nationwide. In June, private sector employment increased by 692,000 jobs. By company size, small business added 215,000 jobs while medium business added 236,000 jobs and large business grew by 240,000 jobs. By sector, service-producing companies saw the largest job growth – up by 624,000. "The labor market recovery remains robust, with June closing out a strong second quarter of jobs growth," said Nela Richardson, chief economist, ADP. "Service providers, the hardest hit sector, continue to do the heavy lifting, with leisure and hospitality posting the strongest gains as businesses begin to reopen to full capacity across the country." Job growth is a key factor in the Fed's decision on when to raise rates and taper asset purchases. If employment continues to make substantial progress over the next few months, the Fed will likely start tapering back purchases and making a more concrete plan on when to raise the benchmark interest rate.
In other market news this week, the weekly mortgage application survey will be released on Wednesday morning, followed by the weekly jobless claims survey on Thursday morning. On Friday, the U.S. Department of Labor will release their employment situation, consisting of reports on the unemployment rate, participation rate, the average hourly earnings, average weekly hours, government payrolls, manufacturing payrolls, nonfarm payrolls, and private payrolls. Also scheduled for release on Friday is consumer credit.
With the benchmark rate held near zero and many lenders keeping rates low, there are many opportunities for home buyers and homeowners to score big savings. Whether purchasing or refinancing, we know we have a mortgage product made just for you! Check out our loan product pages for in-depth loan reviews or contact us today to get started.
Sources: Bloomberg, MBS Highway, Mortgage News Daily, Reuters, Yahoo! Finance