Market Forecast: Mortgage Applications, Housing Market Index, Housing Starts and Building Permits
Blog posted On April 12, 2021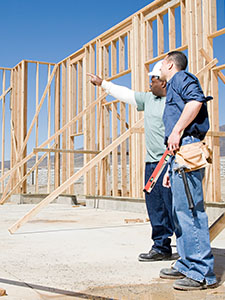 Last week, mortgage rates trended downward and hit their lowest point since the beginning of March. The bond market remained stable and bond yields have remained below important ceilings since mid-March. Coming up this week in housing news, the weekly mortgage application survey will be released on Wednesday morning, followed by the housing market index on Thursday and housing starts and building permits on Friday.
The Mortgage Bankers Association (MBA) weekly mortgage application survey tracks week to week changes in the submission of new purchase and refinance mortgage applications. Mortgage application submissions saw a composite decrease of 5.1% during the week ending 4/2. Both refinance and purchase application submissions fell by 5%. Year-over-year, refinance submissions were down 20% while purchase submissions were actually up 51%.
The National Association of Home Builders' (NAHB) housing market sentiment index is based on a survey of home builders' perceptions on current sales activity, sales expectations for the next six months, and buyer foot traffic. Any reading above 50 is considered positive. In March, home builder confidence dropped two points to a level of 82. Home builder materials costs are on the rise, adding concerns about construction costs. However, home buyer demand is still high, and the housing market index reflects the continued confidence of the construction industry.
Housing starts track ground broken on residential projects and building permits track permits issued. In February, housing starts and building permits slowed to an annual rate of 1.43 million and 1.68 million respectively. The construction slowdown was largely due to the winter storm that affected most of the nation earlier this year. Housing starts were 10.3% lower than their rate in January, while building permits fell 10.8%. Single-family housing starts had been driving the construction boom, but they slowed 8.5% last month. Multifamily housing starts fell by 14.5% nationwide. However, February's data likely doesn't represent a new trend in construction momentum; instead, it was probably a minor setback due to inclement weather.
With rates trending lower, now might be the time to lock in your mortgage. With our different rate lock programs, you can secure mortgage rates while they are low. For more information, contact us today.
Sources: Mortgage News Daily, Mortgage News Daily, MarketWatch, MarketWatch Reuters