Market Forecast: Case-Shiller Home Price Index, Pending Sales, and Construction Spending
Blog posted On March 29, 2021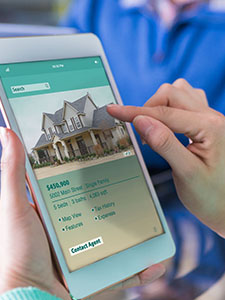 Last week, mortgage rates trended near some of their lowest points since the middle of March, according to Mortgage News Daily. The downward trend comes after consistently rising throughout the beginning of the month and is a positive outlook for future rates. Regardless of whether this downward trend will last, Mortgage News Daily contributors pointed out that eventually one of these rates drop clusters will "have staying power."
This week, the Case-Shiller home price index is scheduled for release on Tuesday, followed by the pending home sales index on Wednesday. The report on construction spending will be released on Thursday.
The S&P Case-Shiller home price index tracks changes in the value of homes involved in two or more sales transactions across 20 major metropolitan areas throughout the country. Though the data lags by a month, it is still used to gauge home price appreciation trends. Home prices appreciated 1.3% in December, marking the seventh consecutive month of gains. Annually, home prices saw the largest gain since April 2014 – up 10.1%. Per city, the largest annual home price gains took place in Phoenix (up 14.4%), Seattle (up 13.6%), and San Diego (up 13%).
The pending home sales index tracks changes in the number of homes that are under contract but not yet closed. In January, pending home sales fell 2.8% month-over-month, but year-over-year, they were still up 13%. A large contributor to this fall was the low housing inventory.
The U.S. construction spending report tracks total spending on private and public construction projects. Construction spending jumped 1.7% in January, reaching a record high of $1.52 trillion. Year-over-year, construction spending rose 5.8%. Spending on private construction projects, like residential building, increased at a seasonally adjusted annual rate of $1.16 trillion. Spending on residential projects specifically increased 2.5% while nonresidential spending inched up 0.4%. Public construction spending rose 1.7% to reach a seasonally adjusted rate of $362 billion.
Construction spending is expected to grow as the housing inventory is still near record lows. While buying an existing home might be slightly cheaper, building a new home allows to customize your plans for the home of your dreams. Plus, we have great loan options for new construction, currently including an extended rate lock terms. If you would like to learn more about what this means and how it can benefit you while building your new home, let us know.
Sources: Census.gov, MarketWatch, Mortgage News Daily, NAR, S&P Dow Jones Indices