How to Lower the Costs of Refinancing
Blog posted On August 26, 2021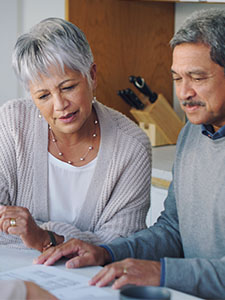 Refinancing your mortgage can save you thousands of dollars over the life of your loan. However, it will come with closing costs that can add up quickly. Before refinancing, make sure that you have a good plan that will pay off your closing costs with your refinance savings. Explore different options that can help lower the price of your closing costs and save on your overall refinance.
Benefits of Refinancing Your Mortgage
Switch to a fixed-rate mortgage
If interest rates are low, switching to a fixed-rate mortgage could be a smart financial move. Many people might opt for an adjustable-rate mortgage (ARM) when interest rates are higher because ARMs typically start at lower rates than fixed-rate mortgages. But over time ARM rates may rise. A good way to save on interest is to switch to a fixed-rate mortgage when market rates are low. This way, you will have predictable monthly payments that won't rise and fall with the market.
Lower interest rate
An obvious benefit of refinancing your mortgage is lowering your interest rate. When the market interest rate is notably lower than your initial mortgage rate, you can save thousands (or hundreds of thousands) of dollars by refinancing your mortgage. For example, if you get an initial 30-year mortgage for $300,000 at an interest rate of 4.5%*, you'll pay $247,220 in interest over the life of your loan. But if you refinanced your loan after five years to a 30-year mortgage for $270,000 at an interest rate of 2.8%*, then your total interest would only be around $198,000 – saving you around $50,000 in interest. However, your interest rate may not always be an option if the market rates aren't lower than the mortgage rate you had when you originated your loan. If that's the case, there are still several other benefits of refinancing.
Get cash out
If you have built enough equity in your home, getting a cash-out refinance could be a great way to help pay off high interest debt, finance home renovations, or purchase an investment property. Most financial experts recommend having at least 20% equity before taking cash out, but you can check with your loan officer to see if you qualify.
Cancel mortgage insurance
Depending on what type of loan you have, you may be able to stop paying mortgage insurance when you refinance. Certain mortgages like the FHA Loan typically require mortgage insurance payments throughout the life of your loan, but Conventional Loans will allow you to cancel your Private Mortgage Insurance (PMI) once you reach 20% equity. This can save you thousands of dollars per year.
Costs of Refinancing Your Mortgage
While there are many benefits to refinancing your mortgage, it's important to evaluate the costs before deciding. Like your initial purchase loan, your refinance will come with closing costs. Closing costs are one-time fees paid at the time of closing and can include:
Points

Application fees

Loan fees

Inspection fees

Appraisal fees

Title fees

Mortgage recording fees
Your lender will provide an estimate of your closing costs when you apply for a refinance but they usually range from $1,500 to $5,000. The exact amount will vary depending on your lender and region. While 'no closing cost' loans might exist, this isn't typically an option with refinanced loans.
Ways to Lower the Costs of Refinancing
A big way you can lower the overall cost of refinancing is by boosting your credit score and lowering your debt-to-income ratio. This can help you qualify for lower rates, which will save you money over time. If you have less-than-perfect credit, you could purchase mortgage points, which are upfront payments that can reduce your interest rate and monthly payment. Another way to save is by working with the same title insurance company that you used for your initial purchase. This can significantly reduce your title fees. If you want to reduce or eliminate other fees you could ask for an appraisal waiver or negotiate an origination fee waiver. Though it's not guaranteed, you could save hundreds by waiving these fees.
Refinancing isn't free, but it can be a great financial move for certain homeowners. If you would like to explore your refinance options, let us know.
*Payment example: If you choose a $250,000, 30 year loan at a fixed rate of 3.3% (APR 3.5%), you would make 360 payments of $1,122.61. Payment stated does not include taxes and insurance, which will result in a higher payment.
Sources: Investopedia