How Home Equity Can Increase Your Financial Safety
Blog posted On December 16, 2021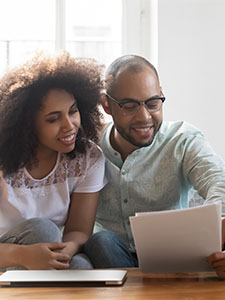 While many home buyers dream of the day they can paint their own walls, have their own yard, and finally have a place to call home, they might be forgetting about the most beneficial perk of all. Home equity is one of the most valuable assets for many homeowners. Not only does it boost your net worth and increase your financial freedom, but it also can strengthen your financial safety net.
What is financial safety?
Financial safety is an important part of financial planning. It involves several different factors that all lead back to protection. Different aspects of financial safety can include protecting yourself from:
Getting your identity stolen

Falling victim to credit card fraud

Incurring large amounts of debt

Going into financial crises during economic hardship
The solution for a lot of these problems comes down to investment management. Making sure you're checking your bank statements, managing your credit card use, avoiding unnecessary debt, and budgeting for savings are all great ways to boost your financial safety. Having a diversified investment portfolio can also help. Instead of just investing in stocks and bonds, investing in real estate can offer increased protection in case of economic hardship (i.e. a stock market crash etc.).
What are the benefits of home equity?
Home equity is the amount of home that you own. For example, if you purchase a $400,000 with a $20,000 down payment, then you own 5% of the home. The greater your home equity, the greater your net worth and financial freedom. Many people tap into their home equity using a cash-out refinance, which allows to exchange home equity for cash (as long as you still have 20% equity remaining). With a cash-out refinance you can pay off unexpected expenses or high interest debt.
What is a line of credit and how can it help?
A line of credit allows you to withdrawal money from a certain account when you need it. A home equity line of credit (HELOC) allows you to borrow money against the equity in your home. The amount of money available to you through a HELOC depends on your home's appraised value and the amount of mortgage you have left to pay. Once you're approved for a HELOC, it basically works like a credit card. You can access the equity in your home whenever you need and can use as much or as little as you want (without exceeding your maximum approved amount). Then, you can pay off your balance over time. The biggest benefit of financing expenses with a HELOC as opposed to a credit card is the interest rates. Interest rates on a HELOC are typically much lower than credit card interest rates – making them a good financial safety net in case of economic hardship.
If you're interested in learning more about out HELOC program, contact us today.
Sources: MarketWatch