How a USDA Loan Can Help You Buy a Home with 0% Down
Blog posted On September 08, 2022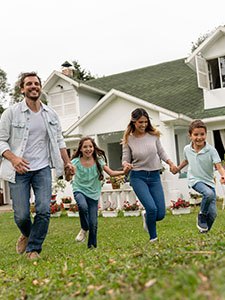 High home prices and rising mortgage rates are putting hopeful home buyers in a difficult position. Buy now and try to save money in other ways? Or keep renting to avoid the upfront costs of buying? It seems like an impossible decision, but there are other options. Buying a home doesn't have to mean spending thousands of dollars in upfront costs alone. There are countless home loan programs that offer closing cost assistance, below-market interest rates, and 100% financing.
USDA Loans offer 100% financing
USDA Loans are one of few mortgages that allow buyers to purchase a home with 0% down. They also boast reduced mortgage insurance costs and low mortgage rates.
More than 100 million Americans could qualify for USDA Loans
A common misconception is that USDA Loans are only for farms and rural areas. While they are backed by the U.S. Department of Agriculture (USDA), over 95% of U.S. landmass is eligible for USDA financing. In fact, many USDA buyers live in the suburbs. How do you know if you live in a USDA-eligible area? Many people assume that they don't live in an eligible area. But you can find out easily by visiting the USDA website for USDA Loan eligibility and location criteria.
You don't have to be a first-time home buyer to get a USDA Loan
In fact, you don't have to be a home buyer at all. USDA Loans can be used for a home purchase, renovation, or refinance. Anyone within the income and property limits can apply for a USDA loan. Whether you're a seasoned expert or brand-new buyer, the USDA Loan can help you finance your home. However, if you're a seasoned home buying expert, just remember that you won't be able to use your USDA Loan for an investment property. The house you purchase with your USDA loan must be your primary residence.
USDA Loans offer 100% financing on renovations
Financing from a USDA Loan can help you make everyday fixes like roofing repairs, electrical repairs, or other safety updates, as well as renovations like a kitchen remodel. Like the USDA Loan for home purchases, the USDA Renovation Loan has 100% financing available. Using a USDA Renovation loan gives funds to make the updates and upgrades you need and combines these costs with your mortgage into a single loan.
USDA Loans are a huge benefit available for millions of homeowners and buyers. Most people just aren't made aware of USDA Loans and their advantages. Or they don't think they live in an eligible area. But remember, 97% of U.S landmass is eligible for USDA financing. Learn more about USDA Loans by browsing our loan products page.