Home Selling Checklist: 7 Things to Do Before Putting Your Home on the Market
Blog posted On May 25, 2022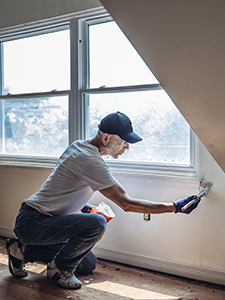 Spring and early summer are some of the busiest home buying seasons. If you're considering selling your home, there are several ways you can prepare it for the market. Below are seven steps to take before listing your home.
Find a knowledgeable real estate agent- Real estate agents are your secret weapon when it comes to selling your home. The right one will be able to comb through and pick out the strongest offer in a multiple offer situation and help you sell for top dollar.
Repaint walls- Do not underestimate a fresh coat of paint! This will make the home feel fresh and can help cover up scuff marks or fingerprints.
Declutter and organize- Less is always more. You want a potential buyer to come in and be able to imagine bringing their things into the home. Clear off countertops, organize the pantry, store toys, and move clutter in living areas. If a home is too cluttered, it can make a buyer think the house is smaller than it really is.
Depersonalize your space- Family photos and personal items should be taken down and put away. You want a potential buyer to come to the house and visualize themselves and their family living there. Too many family pictures around can prevent that.
Landscaping- Don't forget about the outside of your home! Ways to spruce up your curb appeal can be planting new colorful flowers, a fresh coat of paint on the front door, and even having a fresh-cut lawn could go a long way. Many buyers will drive by your house before taking a tour, so make sure the outside is inviting to potential buyers.
Stage your home- If you can move out of your home before putting your home on the market, staging is a great way to help your home sell faster! This allows buyers to visualize ways that they could use the space in their own way.
Hire a professional photographer- Having your listing photos taken by a professional photographer who specializes in real estate photography is essential. Many potential buyers see your home for the first time online, so it is crucial to have high-quality pictures.
A lot of work goes into getting your home ready to be put on the market. Doing the things listed above can help get your home sold quickly, and at top value.
Have you been preapproved for your next home? Reach out to start your application today!
Sources: Moving.com Realtor