Home Renovations with the Highest and Lowest Returns
Blog posted On May 20, 2021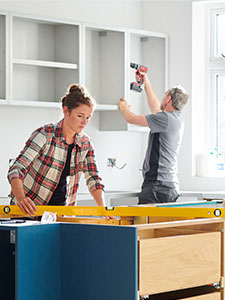 Home renovations can be costly endeavors, depending on the scope of your project. Some homeowners might renovate simply because they need more space. Others might have the goal of boosting their home's value. If the purpose of your home renovation is to increase your home's value, it's important to weigh out its cost. Certain renovations might not have the same resale value that you imagined. To help you plan for your home renovation, here are the current home upgrades with the highest and lowest return on investment (ROI).
Highest ROI Renovations
Garage door replacement
Exterior renovations have some of the highest returns right now. The 2021 Cost vs. Value report from Zonda Media says that 11 out of 12 leading home renovation projects were to a home's exterior. Your home's exterior curb appeal is what initially catches a buyer's eye. By improving your home's curb appeal, you can help make a better first impression on buyers. "That translates to real dollars at the closing table, which is why we see such tangible returns on those investments," said Clayton DeKorne, editor-in-chief of Remodeling and JLC magazines. Among exterior renovations, garage door replacements had the highest ROI at 94%. The cost to replace and install a garage door can range from $1,965 - $4,365 according to Home Depot.
Manufactured stone veneer
Stone veneer is the decorative stone siding that you see on houses. Oftentimes, fireplaces will have stone veneer. Stone veneer is a popular aesthetic in the market right now, adding around $9,570 in resale value. Compared to 2015, the resale value of stone veneer has jumped by nearly $3,000. "The trend of exterior replacements outperforming larger discretionary remodeling projects has been accelerated, no doubt, by a year in which Covid has made people reluctant to have contractors inside their homes but wanting to improve outdoor spaces," said DeKorne. Be wary of trendy remodels, though, depending on when you plan to sell. A remodel that is on trend now may be less appealing five-to-ten years down the road.
Minor kitchen remodel
The cost vs. value (CvV) for kitchen remodels has largely declined since 2016 – when its CvV was around 83%. The CvV for minor kitchen remodels today has fallen to 72%. However, in terms on interior renovations, they still provide the highest ROI. A kitchen remodel is considered 'minor' if it's around $20,000 to $30,000. An example of a minor kitchen remodel would include updated cabinet fronts and drawer pullers as well as a replaced cooktop/oven range. Additionally, you could replace your fridge with a newer, more energy efficient model, install a mid-priced sink and faucet, add resilient flooring, and finish the room with a fresh coat of paint and trim.
Lowest ROI Renovations
Master suite addition
The CvV for an upscale master suite addition spiked between 2015 and 2017. However, in 2018 it dropped significantly to 48%. In 2021, the ROI for an upscale master suite addition remains the same – valued at just $152,966 with a cost of $320,976. Midrange master suite additions aren't much better. Though their CvV is a little higher at 55%, their overall value is still only $85,672 with a cost of $156,741. So, for right now, you might be better off without that extra master suite.
Bathroom addition
Bathroom additions costs currently range from $56,946 to $103,613 for midrange to upscale jobs. The return value on these additions ranged only from $30,237 to $54,701 – or around 53%. You would be better off with a midrange bathroom remodel – with a 60% CvV.
Major kitchen remodel
A midrange major kitchen remodel is currently around $75,000. An upscale kitchen remodel can reach $149,000 or more. Major kitchen remodels have lost significant ROI over the past seven years. Though midrange remodels used to reach 74%, they're now only getting around 57% of their cost back in resale value. Upscale kitchen remodels are only getting back 54%. Major kitchen remodels tend to be very individualized and don't appeal to a wide range of buyers.
Home renovations can be a great way to modernize your home and add value to your property. They can also be a great alternative to buying a new house with more space – especially when home inventory is low. If you're looking at different renovation options, ask us about our renovation loans or how a cash-out refinance could help you.
Sources: CNBC, Home Depot, Remodeling