Home Maintenance Checklist for the Summertime
Blog posted On June 08, 2022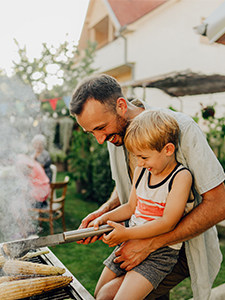 Owning a home brings a lot of pride and joy but it also requires a good amount of maintenance throughout the year. Without the proper maintenance, your home may require more costly repairs down the road. The summer is a perfect time to take advantage of the longer days and start on your home's to-do list.
Summer Maintenance Checklist
Inspect Your Roof – Your roof can take on a lot of wear and tear throughout the year thanks to weather, wind, and the constant beating of the sun. Check for any missing shingles, spots that seem to be holding too much water, or mold.
Schedule an HVAC Inspection – It's recommended that you have your HVAC unit inspected by a professional at least once a year. This will help your units last longer and prevent a costly replacement before it's needed.
Look Out for Leaky Pipes – Pipe leaks can have a huge ripple effect that can lead to high water bills, yard damage, and even home flooding. Look out for any signs of leaking around the major pipes in your house.
Clean Your Gutters – This is something that many homeowners forget about. Having water and leaves trapped in your gutters can lead to a lot of damage. If your gutters are clogged, then the rain has nowhere to go, and it can cause water damage to the exterior and interior of your home. It can also attract mosquitos and other unwanted pests.
Inspect Your Siding and the Exterior Paint – Check for chipped siding and mildew. The summer is a great time to get the exterior of your home. A quick fix for buildup on your exterior home walls is to rent a pressure washer. However, some pieces of siding may require more extensive attention if they show signs of rotting.
Spruce Up Your Landscaping – Time to get rid of overgrown grass, weeds, dead plants, and flowers. This is an excellent way to spruce up your home's curb appeal.
Keeping up with your yearly home maintenance makes it easier to get your home market-ready and can help prevent a surprise inspection.
Are you looking to move this summer? Reach out to a loan officer today! Looking for a way to renovate without breaking the bank? Explore our renovation loan options.
Sources: Homeadvisor NYTimes