Home Buyers and Sellers Set to Score Big in 2021
Blog posted On January 19, 2021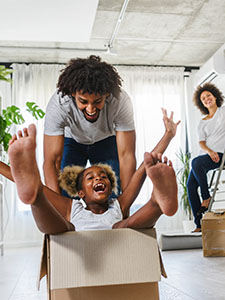 It's hard to predict the economic swings we experienced in 2020. From a global slowdown brought on by the pandemic to a booming housing market keeping everything afloat – it was a year full of surprises. But now that a new year is beginning, many are wondering, what's next? and where do we go from here? And while many things remain unclear, one is nearly certain: the housing market will continue to thrive.
Housing is different than any other economic market in the country. It's not a good or service, it's an essential entity – a shelter. People need a home as a place to live but also rely on their home as a form of financial security. "Housing is the single greatest contributor to wealth in America," says David H. Stevens, current CEO of Mountain Lake Consulting and former CEO of the Mortgage Bankers Association. "When you combine that with the proper market conditions, the ability to build long-term, sustainable, intergenerational wealth can be accelerated." And right now, the market conditions are more than proper.
Economists have expressed exceptionally positive outlooks for the housing market's year to come. Unlike the Great Recession of 2008, the current market conditions are much more stable and fruitful for housing. In 2008, we had a struggling housing economy – largely resulting from poor underwriting standards and weak housing demographics. In 2021, we have safe underwriting standards and a millennial demographic, many of whom delayed buying their first home, driving a booming housing demand. One of the only barriers to enter the housing market is the low supply – which is hopeful to improve – and once buyers secure a home, then they will be in a very good financial position.
Home is where most Americans have the greatest wealth. According to a wealth composition chart created by NYU Economist Edward Wolfe, the main source of wealth for middle and upper-income households (households with a net worth less than or equal to $10.3 M) is their primary residence. Having this financial asset in your portfolio has proven to be rewarding over the past year. On a data set of home price appreciation across ten cities, CoreLogic demonstrated that home values have risen by an average 7.7% – even up to 12.6% in certain locations – between November 2019 and November 2020. This means that if your home was valued at roughly $380,000 last year, it would now be worth roughly $409,000 this year. That's almost an extra $30,000 toward your net worth or, if you're selling your home, it's an extra $30,000 in your pocket. The greater your home equity, the greater your financial security and opportunity.
So, whether you're a home buyer, homeowner, or home seller – you're in for a profitable year. Right now, "virtually every economist is [saying] that there is little downside risk in real estate." As Stevens notes, "we are at one of those unique inflection points in housing where all the stars align, and as GDP expectations are extremely positive for a post pandemic recovery in the economy, it might only look better as we set our sights ahead."
Will mortgage rates eventually rise? Yes. However, the point that many experts are making is that the eventual slowdown will simply be a tapering off. "Yes, we have had many cycles in housing over the decades, but for those that understand wealth creation, demographics, rate cycles, and the confluences that result from these data points, 2021 looks to be a truly remarkable year for the homeowner," says Stevens.
Now's the time to make your mortgage moves – and if you're ready to buy, sell or refinance, let us know.
Sources: Forbes, George Mason Mortgage