Helpful Tips to Protect Your Home on Halloween
Blog posted On October 27, 2021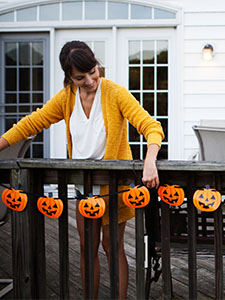 Don't let the adorable zombies and witches fool you. There can be some real monsters out there on Halloween. According to Travelers Insurance, crime-related insurance claims spike by nearly 25% on October 31. This is a bigger claims spike than any other day of the year. Luckily, with a few simple home-protection tricks, you can focus on the real treat of Halloween.
Common crimes during Halloween
Home burglary
Insurance claims due to home burglaries spike by 60% around Halloween. This type of crime sees the largest increase compared to other property crimes because most people actually drop their guard during Halloween. They assume that no one would break in while so many people – witnesses – are walking around the neighborhood.
Car theft
According to the National Insurance Crime Bureau (NICB), Halloween is typically one of the top holidays for car theft. And if thieves don't steal your entire car, they still might try to get away with any items left in your car – phone chargers, wallets, laptops, etc. Insurance claims on cars climb by over 20% on Halloween.
Property vandalism
Trick or treat hardly seems like a question anymore, but surprisingly, there are still a fair number of tricks that go on during Halloween. From harmless 'crimes' such as egging or toilet-papering, to more serious incidents like smashed windows, property vandalism spikes by approximately 20% during Halloween and the surrounding days.
How to prepare your property for Halloween
Turn lights on before you leave
It might seem counterintuitive but leaving your lights on when you leave your home can deter potential thieves. Many people often turn off their lights to signal to trick-or-treaters that they are not home. But a dark home or front porch is the ideal set up for burglars and vandals. Leaving on your lights can also help neighbors or witnesses get a better look at any mischief makers. While it might confuse the costume-wearing candy hunters, it's always better to be safe than sorry.
Keep your plans off social media
Though you might be tempted to share all the details of Little Becca's first trick-or-treating experience, it's better to air on the side of caution. If you want to show off a costume or share a picture, make sure you leave out any specifics of when you're leaving your home or where you'll be going. Even if you think you know all your 'friends,' you never know when or how online information can end up in the wrong hands.
Make your car look empty
According to Angi Orbann, second vice president of personal insurance at Travelers, most Halloween burglaries that occur outside of the home involve a car. If your car looks like it could have valuables inside, thieves are more likely to break in. Make sure you take things off your seats, unplug any chargers or accessories, and remove any valuables that could be taken from your car.
Review your insurance plan
Repairs and replacements can be a costly endeavor. But insurance might be able to cover some or all the costs. Check with your homeowners insurance company to see what they do and don't cover. Most homeowners insurance policies cover common property crimes like vandalism or theft. Before you go out on Halloween, make sure you take a quick inventory of your valuables. "We really encourage people to take a home inventory," Orbann says. Having a list of your valuables and their worth can help the claim process.
If you're evaluating the costs of homeowners insurance, head to the 'advanced' section of our mortgage calculator page. We hope you have a spook-tacular Halloween!
Sources: Business Insider, Forbes, Money,