Federal Reserve Data Shows Housing Market is Still Strong
Blog posted On November 02, 2021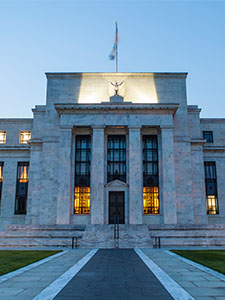 The housing market has been fueling the economy since the beginning of the pandemic. When other industries tumbled, the housing market boomed. Mortgage rates sunk to historic lows, buyers and owners jumped to purchase or refinance, and home sales soared to 15-year highs. A year and a half later, the real estate industry is still booming. Though some may fear that it has reached its peak, the housing market is going strong.
Two weeks ago, the Federal Reserve released its Beige Book for October 2021. The Beige Book is a summary of the current economic conditions based on data collected from 12 major districts across the U.S. Despite claims that the housing market is slowing down, the Beige Book actually revealed that several districts have seen stronger housing markets in recent weeks. The New York district has seen a noticeable increase in sales and rental activity over recent weeks while Atlanta has seen a "robust" demand for housing.
Existing home sales shot up 7% nationwide in September while new home sales skyrocketed 14%. Both figures were much higher than economists expected. In October, home builder confidence hit a level of 80 for the first time in three months according to the National Association of Home Builders (NAHB) housing market sentiment index. This marked the largest jump in builder confidence since October of last year.
Investors and home-improvement companies are showing increased levels of confidence as well. Shares for both Home Depot and Lowe's are up 36% and 42% respectively. Both companies are trading at all-time highs.
All the way up to the top of the corporate ladder, people have a positive outlook for the housing market. Chief Financial Officer of JP Morgan Chase, Jeremy Barnum, expressed an unphased attitude about the increasing mortgage rates and their potential effect on housing demand. "The impact of [...] higher rates shouldn't be a source of major concern for the housing market," said Barnum. Ever since the Federal Reserve all but announced that they were going to begin tapering asset purchases, mortgage rates have been steadily rising. However, this isn't necessarily a bad sign. It actually is a good sign of market stabilization. "Sales of single-family homes softened, but that may reflect the resumption of normal seasonal patterns following an unusual 2020, as home prices continued to climb," wrote Boston Federal Reserve officials in the Beige Book.
Last week, the National Association of REALTORS® (NAR) released their September pending home sales report, showing a 2.3% decline in the number of contracts that are signed but not yet closed. This would indicate that a decrease in future home sales is coming. Many people might take this as a negative sign, but in reality, it's a sign of a very normal and healthy market. Much of the industry has forgotten what a normal market is like because we've gotten so used to the unflinching hot market. Over the past 18 months, the housing market hasn't really had any 'seasons.' Normally, sales will rise and fall during different seasons of the year. But since the pandemic, the housing market has just been consistently busy.
The gradual return to normalcy is a positive sign for the real estate industry and the economy as a whole. Many feared that a consequential bust would follow the recent housing boom, but the market is showing many good signs of post pandemic stability.
Sources: Bloomberg, CNN, Federal Reserve, NAHB, NAR