Experts Say That Home Buyers Are Gaining More Power
Blog posted On July 12, 2022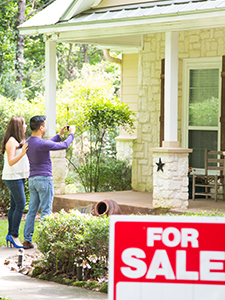 Over the past several months, home buyers have faced increasingly high prices and quickly rising mortgage rates. Affordability has become a large challenge, and low home inventory has left buyers few options to choose from. But signs of a tipping point may be here.
Greater home inventory and more options
Home inventory has already begun to increase, and many listings are beginning to lower their sales prices. "Signs of a tipping point toward a greater balance between buyers and sellers are increasing," wrote CoreLogic Deputy Chief Economist Selma Hepp. Seven percent of homes for sale see a price drop every week – showing that seller and buyer power is starting to reach a better balance. Inventory levels are also starting to give buyers more options. In May, the inventory of unsold existing homes rose to 1.16 million, or the equivalent of 2.6 months at the current monthly sales pace. This is up from 2.2 months in April and 2.5 months in May 2021. New home construction is also set to boost total inventory. "The bottleneck of new construction homes that were not yet completed has finally given way so increases in new construction delivery in the short run will also boost overall availability of homes," says Nicole Bachaud.
More price cuts and reduced listing prices
Not only do more homes on the market offer more options for buyers, but they can also increase the likelihood of additional price cuts. "The rapid increase in inventory means that sellers need to think carefully when setting an asking price," says Holden Lewis, home and mortgages expert at NerdWallet.
Fewer bidding wars
More options and reduced demand also have helped ease the bidding war frenzy of the past two years. According to the National Association of REALTORS® (NAR), the number of offers per home fell to 4.2 in May, down from 5.5 in April and 5.0 in May 2021.
Though mortgage rates may be higher than their record lows during the pandemic, several other factors in the current market are favoring buyers. Mortgage rates are trending near typical levels – the historic lows seen during the pandemic are likely never to return. If you would like to explore our rate reduction programs like our Temporary Interest Rate Reduction, let us know.
Sources: MarketWatch, MBS Highway, National Association of REALTORS®