Everything You Need to Know About Your Mortgage Escrow
Blog posted On January 28, 2021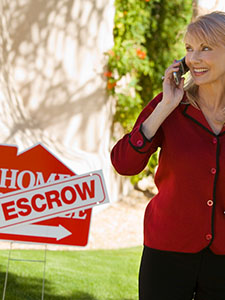 In the world of real estate, the word "escrow" is a term widely used and often confused. Typically, escrow refers to an escrow account, but it can also refer to the escrow process and the escrow period of time. To help keep your escrows straight, here is a breakdown of the escrow process, account and timeline when buying a home.
Escrow process
The escrow process happens when the buyer and seller have come to an agreement and are ready to close on the house offer. Normally, it starts when the seller has accepted the buyer's offer and they both have signed a purchase agreement. Then, the buyer's real estate agent will collect the earnest money check and deposit the money into an escrow account that is held by whichever company is specified in the purchase agreement. This company will act as third party that holds the escrow funds and documents.
Escrow account
The escrow account is where the earnest money deposit is placed during the closing process for a house. The earnest money deposit is described as a 'good faith' deposit made by the buyer, that will compensate the seller if the purchase agreement falls through. It is meant to protect both parties and is held by a third-party company until closing. Once the house closes, the earnest money can be used to help fund the buyer's closing costs.
After closing, the escrow account still exists in order to help pay property taxes, insurance premiums, and other costs. Rather than scheduling separate payments for insurance bills and property taxes, you can ask your lender if they can be rolled into your mortgage payments. Then, if your lender approves, you can use your escrow account to finance insurance bills and taxes as they come. This system pays your bills automatically so that you can ensure they are paid on time and you will not face late fee penalties. "Escrow accounts make life a lot easier for the majority of homeowners that want to add predictability to their monthly expenses, rather than getting whacked twice a year with big insurance and property tax bills," says Greg McBride, chief financial analyst at Bankrate.
Escrow time period
The time that it takes for the escrow process to be complete varies but usually depends on having the proper documents, how long underwriting takes, and in which state the purchase is occurring. A closing officer or escrow officer will oversee the final closing and exchange the escrow funds, record the deeds, ensure that all necessary documents are signed, and all of the purchase agreement conditions are met. The time you have an escrow account, however, will last the life of your loan.
Escrow accounts ultimately exist to help you as a home buyer make smooth effortless and efficient payments to meet your homeowning obligations. Escrow payments may vary per mortgage and lender, so if you have any further questions, make sure to talk to us today.
Sources: Bankrate, Investopedia, Realtor.com, Zillow