Are 'We Buy Houses' Signs a Scam?
Blog posted On March 31, 2021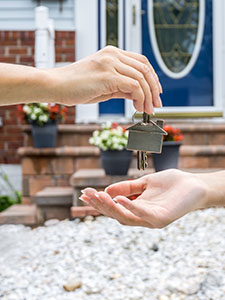 Many of us know a scam when we see one. Whether it's a phone call from "Spam Risk," or a text to claim your free prize, we're wary of anything that seems too good to be true. So, are the "We Buy Houses" signs any different?
If you've seen them on the side of the road, it probably never crossed your mind to call the number below. You might've assumed that it was a call center company trying to get your phone number on file. However, the signs actually come from real estate investment groups that specialize in flipping houses.
What 'We Buy Houses' groups do
The real estate investment groups that advertise buying houses make a profit from buying, upgrading, and re-selling homes. They offer a fast purchase process for houses in any condition, which is appealing to a seller who wants to move or make a profit fast. Therefore, these investment groups have a little more leverage to buy the house for less than its market value – around 10% less.
The investors base their offers off of many different factors. First, they evaluate what the home would be worth after it's full renovated and restored. They also need to account for the neighborhood and other comparable sales in the area. Additionally, the cost of repairs and upgrades need to be factored into the offer as well.
Benefits of selling to an investment group
Investment groups offer two main benefits to sellers – speed and convenience. While selling with a real estate agent might take 30 to 45 days, selling to an investor could help you close within a week. This quick timetable can be especially appealing for people who are in need of extra money quickly – like those who are in foreclosure, who have lost their jobs, or who have home repairs they can't afford. Many homeowners who might be under financial strain could see the rising home prices and want to sell quickly to make the most they can and start generating more cash flow.
Though the market is hot right now, there are certain areas in the U.S. that might not sell as well or fast. However, investors purchase homes all across the country in almost any physical condition. Though you might not get the full market value for your home, you also won't have to pay costs like REALTOR® commission – which can be around 6% of the sales price, or $18,000 for a $300,000 house.
How to spot 'We Buy Houses' scams
Part of the reason why investors can offer more efficient sales than REALTORS® is because they do not require licensing. Real estate agents need to go through extensive training and receive professional certification in order to help you sell or buy a home. Almost anyone can be an 'investor' helping you sell. If you plan to use an investor, it's important to do your research on the person and group. Make sure that the investor is a part of a legitimate company. Look at their website, call the phone numbers provided, and consider talking to any local real estate agent for advice.
Benefits of selling with a REALTOR®
According to the National Association of REALTORS® (NAR), 89% of home sellers worked with a real estate agent in 2020. For many people, working with a real estate agent is the best way to get the most money for your home. Oftentimes, you don't realize how much your home is worth, especially if you bought your home many years ago. In a highly competitive, high priced market, it's important to know the worth of your home because many homes are getting several offers exceeding their asking price. But if you price your home too low, then you might not profit as much from the sale. "If somebody has a house that's in great condition, and was built in the last 10 years, a real estate investor is certainly not going to be a good fit for them," said Jeremy Brandt, CEO of WeBuyHouses.com. "They're going to get the most value for their money by selling through a real estate agent."
Talking with a REALTOR® or Loan Officer could also help you find other solutions for your situation besides selling your home. If you're selling because you don't think you can afford repairs, a good, trusted real estate agent might suggest ordering an appraisal/ home inspection to investigate the actual cost of the repairs. Sometimes it's just a few low-cost fixes. And if you're set on selling your home, then these low cost-fixes could help increase your home's value and ultimately your profit. If there are larger repairs required, you could talk to a Loan Officer about a Renovation Loan or even Renovation Refinance. A Cash-Out Refinance could also be a good option if you are selling with the end goal of extra money for other debts. Cash-Out Refinancing can help you lower your interest rate or cancel mortgage insurance, which would lower your monthly mortgage payment and decrease the financial strain of your mortgage.
Checking your home equity and refinance eligibility with a Loan Officer could help you keep your home and ease your financial strain. To learn more about our different refinance options, or to talk to a loan officer for advice, contact us today.
Sources: Money