9 Million Homeowners Could Save with a Refinance
Blog posted On February 25, 2020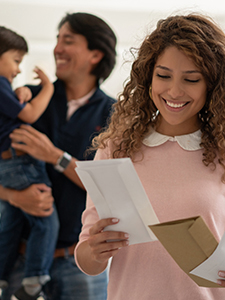 On the fence about a refinance? Black Knight Analytics reports about 9.4 million homeowners with a mortgage could save an average of $272 per month if they refinanced their mortgage with today's low mortgage rates. At the end of January, the Federal Open Market Committee (FOMC) voted to hold interest rates steady and mortgage rates reacted by trending downward. A mortgage refinance is an opportunity to lower your monthly mortgage payment, change your loan terms, or even get cash out.
What is a cash-out refinance?
A cash-out refinance is a new loan origination, where you take on a larger mortgage loan, and withdraw the difference between that loan amount and your existing mortgage. You will still have to pay closing costs just like any other type of refinance. Most financial professionals recommend you wait to do a cash-out refinance until you've built up at least 20% equity cushion. Your home equity is equal to the amount you still owe on your mortgage and the current market value of your home.
When should you consider a cash-out refinance?
Low Interest Rates – if you've already been considering a cash-out refinance, it's better to act when interest rates are low. If you get a cash-out refinance when mortgage rates are higher than they were when you originated your original loan, you will not get to keep the lower interest rate. Barring any drastic economic changes, housing professionals expect to see historically low interest rates throughout 2020.
Improve Your Home – one of the most common reasons homeowners get a cash-out refinance is to pay for a value-added repair or renovation on their home. Do you need a new roof? Is it time for a kitchen upgrade? HVAC not what it used to be? Using your cash-out refinance to reinvest in your home could increase your home's value over time.
Consolidate High-Interest Debt – even if mortgage rates start to rise, they are typically much lower than credit card interest rates. If you have high-interest debt, a cash-out refinance could be an opportunity to pay off that debt. Before you go this route, consult with a financial advisor. There are other ways to consolidate debt, like a personal loan, that may be another option.
Cover Other Expense – maybe your children are getting ready to apply for college or you've incurred some medical bills due to recent health problems. A cash-out refinance could help relieve these other costs, rather than taking on higher-interest debt like credit card debt.
Real estate professionals estimate that US homeowners have a collective $6 trillion in tappable home equity, or the home equity value above the 20% equity cushion. In Q1 of 2019, just $54 billion was withdrawn. If you have any questions about a cash-out refinance, or just refinancing to lower your monthly mortgage payment, let us know.