7 Simple Ways to Spruce Up Your Home's Curb Appeal
Blog posted On February 03, 2021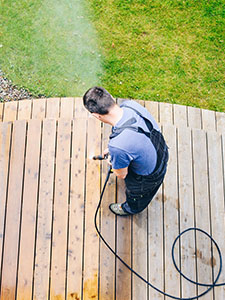 Nothing says "welcome home" like a freshly trimmed front yard and a newly painted front door. Though we all know we can't judge a book by its cover, when it comes to your home, the front cover matters. According to a study by the Journal of Real Estate Finance, your home's curb appeal can contribute up to 7% of the overall price. For a $300,000 house, that's equivalent to $21,000. So, if you're preparing to sell your home, be sure to touch up its curb appeal with these seven simple strategies.
Paint
A fresh coat of paint can go a long way – especially on older homes. Over time, a house's exterior can become weathered and worn. Paint can chip off, fade away, or simply be an outdated color. "While [painting] can be costly, it can make all the difference if the home is overdue for a fresh paint coat," says Reese Stewart of RE/MAX Properties SW. "Painting just the front door or the garages can help spruce up the entry point, since it's one of the first things potential buyers see."
Clean the doors and windows
A less expensive way to add a little shine to your home is by cleaning the windows and doors – inside and out. "Giving doors and windows a good scrubbing is an easy and inexpensive way to remove any grime and give your home that sparkling look," says Stewart.
Add landscaping
Most real estate agents (74%) recommend you address any landscaping issues and make your yard look nice before putting your home on the market. The National Association of REALTORS® (NAR) reported that 17% of sellers that did this had a more successful sale. "Take a step back and see if you need to repot some flowers or replace some bushes," says Stewart.
Power wash
Like the outside of your house, your driveway, porch, and deck can become weathered over time. Concrete surfaces have especially noticeable discoloration – fading from an off-white to a dull gray or even slight green. Power washing your driveway or other parts of your home's exterior is a good way to restore surfaces to their original color and make the home look fresher overall. To power wash a 600 square-foot driveway would cost roughly $215 according to Fixr.
Upgrade outdoor lighting
Another low-cost upgrade to your home is the lighting. Not only does this help your home look nicer but improves safety as well. "Make sure that it is clear of cobwebs and dust and that the bulbs are still working," Stewart says. "This is easy to do, and it can ensure your home is well-lit if any potential buyers visit around sunset or drive by at night."
Revamp roofing
A large part of your home's exterior is the roof. If your roof has broken shingles or other issues, not only will it look bad, but it could affect your home inspection and delay or ruin the sale. Extensive repairs could mean an expensive project, so be prepared.
Touch up mailbox
One of the first features that captures a buyer's attention is your mailbox. "If your mailbox is faded or is looking worse for the wear, it's time for an upgrade," Stewart says. This can include anything from a touch up on the mailbox's paint or a complete replacement.
Several important decisions and tasks will require your attention when selling your home. To help make the process simpler and smoother, focus on fixing your home's curb appeal before placing it on the market. This way, not only will you be able to fully focus on the tasks at hand, but you could also potentially increase your home's value. If you have any bigger renovations or repairs that need to be done, ask us about our renovation loans.
Sources: Bankrate