4 Easy Ways to Give Your Bathroom a Fresh Start This Year
Blog posted On January 06, 2021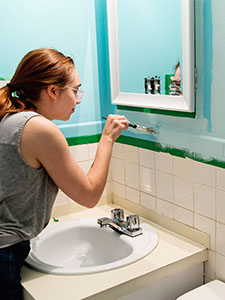 As your home ages, the interior features often age as well. Interior design is constantly evolving, making it difficult to keep up with the latest trends. Upgrading your interior features every five to ten years is a good way to freshen up your home without completely starting from scratch. But if you don't know where to start, here are four affordable ideas on how to touch up your bathroom's features.
Upgrade cabinetry
One of the simplest upgrades for any room is changing out the cabinetry and hardware. Small changes – like cabinet knobs, drawer pulls, and door handles – can have a large visual impact. Plus, a project like this shouldn't cost more than a couple hundred dollars. Depending on the type and amount of cabinetry you choose, it could even cost as little as $10, according to MarketWatch. Since this is just a replacement project (not a new installation), it shouldn't require any drilling. All you would need is a screwdriver and the right sized handles and screws to make sure that you can use the existing holes.
Change your paint color
Another simple upgrade is changing your bathroom's paint color. Though it may require more materials than a cabinetry upgrade, it can make the whole bathroom look completely different. Before you start, you will want to make sure that you have plastic drop cloths and painter's tape to protect areas of the bathroom that you don't want painted. You will also need a paint tray, brushes, rollers, and a ladder. In addition to buying the paint color you want; you will likely need primer to cover the old paint color and start fresh. Paint gallons can cost anywhere between $20 to $100; primer can be $10 to $20, and other supplies can range between $10 and $100.
Replace shower head
One overlooked bathroom feature is your shower head. Though it may seem unnecessary, maintaining a clean shower head is just as important as cleaning other areas of your bathroom. In fact, researchers at the Cooperative Institute for Research in Environmental Sciences found that shower heads build up a bacterium called Mycobacterium, which is known to cause lung disease. Some experts recommend changing your shower head every 6 - 8 months – though people rarely replace them that often – and it is a very simple task that can save you hundreds of dollars on plumbing costs. You just remove your older showerhead, clean the area, and screw in the new purchase. Shower heads can cost as little as $25, but some can be as expensive as $250.
Set up a dual flush toilet converter
Installing a toilet with a dual flush option is a great way to reduce water waste, however it can cost up to $700. To get the same job done at a lower cost, you can purchase a dual flush converter kit for $25. With the converter, you can turn your single flush handle toilet to a two-button dual flush. For many of the models you don't need special tools and can assemble the converter in your toilet in five to ten minutes. Requirements may vary from toilet to toilet.
An updated bathroom can add 2-3% value to your home, according to Homelight.com. And a renovation loan or cash out refinance loan could help finance more extensive remodel projects. If you're interested in remodeling your home and starting this year fresh, let us know and we would be happy to discuss your various financing options.
Sources: Architecture Lab, Better Homes and Gardens, MarketWatch,