3 Reasons to Refinance with a Renovation Loan
Blog posted On December 24, 2020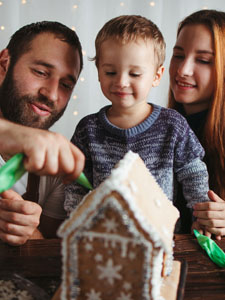 'Tis the last day of shopping, and you still don't have a clue, of which gifts you should buy or what you should do. Stores may be closed, and deals may be done, but luckily, we have the perfect gift for everyone. A playroom for the kids, a home office for you, and a new kitchen for the chef in the family, too. So, look no further than the walls of your home – because anything is possible with a renovation loan.
Not convinced? Here are three reasons why a renovation loan could be the perfect gift for your home this holiday season.
Take advantage of low interest rates
For the past several months, mortgage rates have been dropping to record-low levels. According to the data analytics company, Black Knight, nearly 18 million homeowners could benefit from refinancing with the current downward trend in rates. High-quality refinance candidates could save a combined $5.98 billion per month.
A mortgage refinance involves taking out a new loan to pay off your current loan and, in most cases, lower your mortgage rate and monthly payments. When you refinance with a renovation loan, you pay off your current loan and take out a new loan that includes not only your mortgage but also the expected cost of renovations. in most cases, a renovation loan will carry a lower interest rate than taking out a personal loan or using your credit card to pay for renovations. With rates at record lows, you could borrow more for your renovation project without drastically changing your monthly mortgage payment.
Remodeling might be easier than buying
Due to low interest rates and low housing inventory, home buyer competition has heated up. Over the past seven months, more than half of all Redfin offers have been involved in bidding wars. Compared to last Fall, bidding wars are up 400%. Plus, a new report by Zillow showed that more than one in five homes was sold above their listing price this Fall. In the era of remote work and distance learning, more people are leaving crowded cities in search of areas with greater space. The competition to buy a has been steep this past year, and likely won't cool off for a while. Consequently, more than 20% of potential home buyers have opted to renovate their current homes instead of purchasing a new home.
It can add value to your home
With the right renovations, you can add thousands of dollars in value to your home. This can eventually increase your equity, decrease your loan-to-value ratio, and possibly even help you sell your home at a higher price – especially in the current market. Some of the home renovations with the highest returns include a minor kitchen remodel, window replacements, and even garage door replacements. Unlike a cash-out refinance, a renovation loan could possibly help you expand your budget by borrowing against the home's expected value after your improvements. Furthermore, a renovation loan generally requires less equity than cash-out refinances – although equity requirements may vary per lender.
This year skip the last-minute shopping and late-night stress. Just contact us, and we'll help you handle the rest.
Sources: Bankrate, MarketWatch, Motley Fool, Zillow