10 Songs to Play at Your Open House
Blog posted On March 30, 2022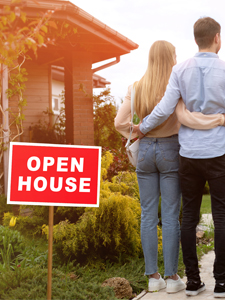 Freshly baked cookies may be a long-lost tradition in the real estate world. But newer sales tactics are starting to gain popularity among some home sellers and buyers. Music can move people in many ways – bringing them to tears, energizing their workout, or providing a calming background tune during the workday. In recent years, some REALTORS® have harnessed the power of music to enhance buyers' experiences at open houses. Some have found that this can help seal the deal. But if you're going to try testing it out for yourself, there are a few keys to keep in mind.
Dos and Don'ts of Open House Music
There are a few key factors to keep in mind when deciding whether or not to play music at an open house (as well as when picking out the kind of music).
DO read the room – If your buyers are already really engaged, then music might distract them and your conversation.

DON'T play the music too loudly – Overbearing music can be an immediate annoyance to buyers.

DO pick the right kind of music – Keep the EDM for your personal playlists.

DON'T just pick music that you like – Remember, picking the right music is key if you're going to play tunes at your open house.
Most Popular Open House Songs
Tom Hignite, owner of Miracle HomeBuilders, strongly believes in the power of music at open houses. The important part is picking the right music. "It's trying to create a sense that goes with the home," said Hignite. "With a contemporary home, a lot of times it's New Age … sounds almost Zen-like. If it's an older home, mansion-like, we'll want to have classical music, maybe piano and violin music."
Therefore, the most popular open house songs, according to the National Association of REALTORS®, includes a wide range.
| | | |
| --- | --- | --- |
| Song | Artist | Genre |
| Better Together | Jack Johnson | Mellow, Acoustic |
| Dreams | Fleetwood Mac | Rock, Folk |
| Landslide | Fleetwood Mac | Rock, Folk |
| The Rocketeer – Rocketeer to the Rescue – End Theme | Orchestra of Americas | Soundtrack Score, Easy Listening |
| Into the Mystic – 2013 Remaster | Van Morrison | Folk, Mellow |
| It Never Entered My Mind | Mulgrew Miller | Easy Jazz |
| Soarin' – From Soarin' Over California | Jerry Goldsmith | Soundtrack, Easy Listening |
| Yoda's Theme | John Williams, London Symphony Orchestra | Soundtrack |
| I'm Yours | Jason Mraz | Mellow, Pop, Acoustic |
| The Bones – With Hozier | Maren Morris | Country, Pop |
| Home | Michael Bublé | Folk, Mellow, Pop Rock |
Does it Really Work?
It all depends on what you think is best in the moment. Some REALTORS® will never use music at an open house. But in 2015, a group of Australian researchers found that the amount of money spent while shopping correlated with hearing music softly playing in the background. The conclusion was that "music adds more perceived value to the product being offered," wrote Kristine Hansen of Realtor.com. "Having some soft, soothing music playing at an open house does help with the sale," says Michelle Galli, a listing agent with Century 21 M&M in Los Banos, CA. "It gives the prospect a calm, relaxing feeling … so they can picture themselves in the home in serenity."
Sources: National Association of REALTORS®, Realtor.com