Market Recap: Mortgage Applications Decline, Home Builder Sentiment Improves, Housing Starts and Building Permits Jump
Blog posted On April 16, 2021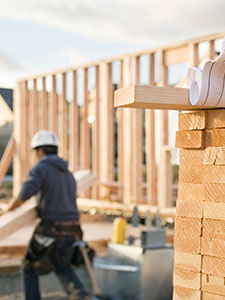 This week, mortgage rates trended near some of their lowest levels in almost a month. After weeks of steady increases, rates are finally falling at a consistent pace. "The drop in rates creates yet another opportunity for those who have not refinanced to take a look at the possibility," said Sam Khater, chief economist at Freddie Mac. In other market news, mortgage application submissions declined once again. Home builder sentiment improved, despite record high lumber prices. Housing starts jumped to their highest level in years and building permits rose as well.
Mortgage application submissions fell 3.7% during the week ending 4/9. Refinance submissions dropped 5% week-over-week while purchase submissions fell 1%. Year-over-year, the Refinance Index dropped 31% but the Purchase Index rose 51%. "Purchase and refinance applications declined, with most of the pullback coming earlier in the week when rates were higher," said Joel Kan, associate vice president of economic and industry forecasting for the Mortgage Bankers Association (MBA). "Treasury yields started last week high - close to the prior week's level at over 1.7 percent - before decreasing 6 basis points."
According to the National Association of Home Builders (NAHB), builder sentiment jumped from 82 to 83 in April. Anything above 50 is considered positive. So, while the one-point climb may seem small, it's very encouraging according to the index. Compared to last April, home builder sentiment has more than doubled. One year ago, the NAHB index was at a level of 30. Home buyer demand is high. Unfortunately, so are lumber prices. However, the increasing cost to build has not deterred the overall sentiment among builders. "Though builders are seeking to keep home prices affordable in a market in need of more inventory, policymakers must find ways to increase the supply of building materials as the economy runs hot in 2021," said NAHB Chairman Chuck Fowke.
Housing starts surged 19.4% from February to March, while building permits jumped 2.7%. Year-over-year, housing starts soared 37% and building permits climbed 30.2%. The number of housing starts and building permits reached seasonally adjusted annual rates of 1,739,000 and 1,766,000, respectively. Single family housing starts were up 15.3% from February's level while single family building permits grew 4.6%. Starts for privately-owned multifamily buildings increased 30% month-over-month. After a temporary slowdown in February, construction is back on track and working to bring more homes to the housing market.
The housing market is still booming. Demand is high, rates are relatively low, and sales are hot. With more homes being built and added to the industry, price appreciation will likely slow down. To take advantage of buying when prices are low, get started by getting prequalified now!
Sources: Census.gov, CNBC, MBA, MarketWatch, MarketWatch, MarketWatch, Mortgage News Daily